Cancer Nursing: Care in Context, 2nd Edition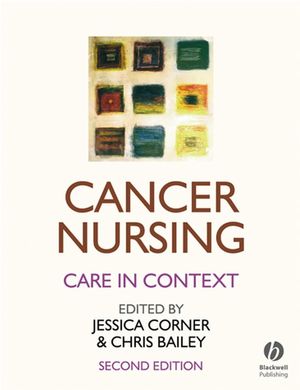 Cancer Nursing: Care in Context, 2nd Edition
ISBN: 978-1-119-09634-4
Jan 2015
736 pages
Description
The needs of cancer patients and their families are complex. Yet still more complex are the powerful social and cultural forces that shape the delivery of cancer care, and the way in which it experienced. Cancer Nursing: Care in Context addresses this by adopting a unique approach that situates cancer care in the context of society's attitudes to the disease, and the broader every-day needs of both patients and their carers. By combining evidenced-based information, a critical view of care and treatment, and 'first-hand accounts' of having cancer and caring for people with cancer, the book provides a new perspective how best to deliver the care that patients truly require.


This second edition includes new chapters on prevention, diagnosis, symptoms, self-help and self-management, and living with cancer long-term. It also:


• Addresses significant changes in cancer care, including expansion of nursing roles, the establishment of cancer networks and cancer collaborative projects
• Considers NICE guidance on Supportive and Palliative care
• Incorporates material on prevention and early detection
• Includes evidence tables based on relevant literature


Cancer Nursing: Care in Context is an invaluable resource for all those involved in the provision of cancer care and support to patients and their families.
Foreword
.
Preface .
Contributors.
Part 1: Cancer, Care, and Society .
1. What is cancer? Jessica Corner .
2.Knowledge and caring: a philosophical and personal perspective Alan Cribb .
3. Cancer, care, and society Christopher Bailey .
4. Cancer epidemiology Elizabeth Davies and Vivian Mak .
5.Developments in the management of cancer Alastair Munro .
Part 2: The Experience of Cancer .
Introduction.
6. The impact of cancer Mary Wells .
7.The impact of cancer on the family Hilary Plant .
8. The impact of cancer on health care professionals Anne Lanceley .
9. Therapeutic strategies in cancer care Anne Lanceley .
Part 3: The Experience of Treatment .
Introduction.
10. The experience of treatment Lynne Colbourne .
11. Surgery Stephen O'Connor .
12.Chemotherapy Lisa Dougherty and Christopher Bailey .
13. Radiotherapy Sara Faithfull .
14. Endocrine therapies Deborah Fenlon .
15. Complementary and alternative therapies Caroline Hoffman .
16. Hereditary cancer Audrey Ardern-Jones, Sarah Thomas, Rebecca Doherty,.
and Rosalind Eeles .
Part 4: The Management of Cancer-related Problems .
Introduction.
17. Pain Meinir Krishnasamy .
18. Nausea and vomiting Meinir Krishnasamy .
19. Fatigue Meinir Krishnasamy .
20. Breathlessness Christopher Bailey .
21. Wound management Meinir Krishnasamy .
22. Lymphoedema Anne Williams .
23. Malignant ascites Nancy Preston .
24. Bone marrow suppression: neutropenia and thrombocytopenia.
Ruth Dunleavey .
25. Change in eating habits Jane Hopkinson .
26. Sexuality and cancer Isabel White .
27. Anxiety and depression Annabel Pollard and Meinir Krishnasamy .
28. Delirium Meinir Krishnasamy .
29. Acute events in cancer Stephen O'Connor .
Part 5: Needs and Priorities in Cancer Care .
Introduction.
30. The needs of children and adolescents Fay Scullion and Jenny Thompson .
31. The needs of older people Christopher Bailey .
32. Ethnicity, difference, and care Yasmin Gunaratnum .
33. Living with cancer long term: the implications of survival David Wright .
34. Self-management and self-help Claire Foster .
35. User involvement in cancer services David Wright and Jenny Walton .
36. Palliative care and cancer Sheila Payne .
37. Research and cancer care Jessica Corner .
Index
"The purpose is to provide a resource for what constitutes best practice in each area of cancer treatment. The book is successful in this goal." (Doody's Reviews, May 2009)
* New edition of popular and informative text
* Provides a visionary critique of cancer, cancer care and cancer treatment
* Directs and informs cancer nurses in leading cancer care and management
* Includes evidence tables based on relevant literature
* Incorporates a 'user' focussed perspective
* Incorporates material on prevention and early detection