Cancer Prevention and Screening: Concepts, Principles and Controversies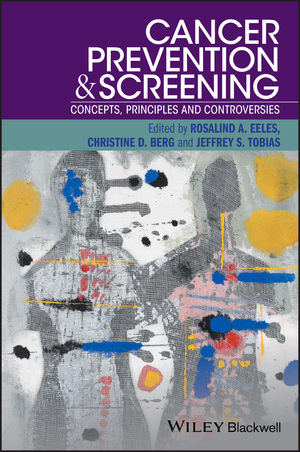 Cancer Prevention and Screening: Concepts, Principles and Controversies
ISBN: 978-1-118-99087-2
Aug 2018, Wiley-Blackwell
384 pages
Description
Cancer Prevention and Screening offers physicians and all clinical healthcare professionals a comprehensive, useful source of the latest information on cancer screening and prevention with both a global and a multidisciplinary perspective.
Includes background information on epidemiology, cancer prevention, and cancer screening, for quick reference
Offers the latest information for clinical application of the most recent techniques in prevention and screening of all major and many lesser cancer types
Emphasises the importance of multidisciplinary teamwork in cancer screening
Highlights frequent dilemmas and difficulties encountered during cancer screening
Provides clear-cut clinical strategies for optimal patient education, communication, and compliance with cancer prevention techniques
Chapter 1 Global Perspectives Surrounding Cancer Prevention and Screening
Chapter 2 Public Health Perspectives Surrounding Cancer Prevention and Screening: The Ontario Edition
Chapter 3 Cancer screening – a general perspective.
Chapter 4 The Balance of Cancer Screening, Risks and Benefits
Chapter 5 Cancer Screening Issues in Black and Ethnic Minorities.
Chapter 6 Public awareness of cancer screening
Chapter 7 Public understanding of cancer prevention
Chapter 8 CERVICAL CANCER SCREENING: AN EXEMPLAR OF A POPULATION SCREENING PROGRAMME
Chapter 9 Prevention of and screening for anal cancer
Chapter 10 The Prevention of Breast Cancer
Chapter 11 Breast Cancer: Population and Targeted Screening
Chapter 12 Prostate Cancer Prevention
Chapter 13 Population Screening for Prostate Cancer
Chapter 14 Colon Cancer Prevention
Chapter 15 COLON CANCER SCREENING
Chapter 16: Lung Cancer Prevention
Chapter 17 Lung Cancer Screening
Chapter 18 Mesothelioma: Screening in the Modern Age
Chapter 19: Skin Cancer Prevention and Screening.
Chapter 20 SCREENING AND PREVENTION OF ORAL CANCER
Chapter 21 Oesophageal Cancer
Chapter 22 Hepatocellular Carcinoma: Prevention and Screening
Chapter 23: Ovarian Cancer Prevention and Screening
Chapter 24 Screening for testicular cancer
Chapter 25 Issues in Paediatric Cancers
Chapter 26 Obesity and Dietary Approaches to Cancer Prevention
Chapter 27 Genetic predisposition to cancer: the models
Chapter 28 Cancer Prevention and Screening: Advances to Carry Forward