Cancer Vaccines and Tumor Immunity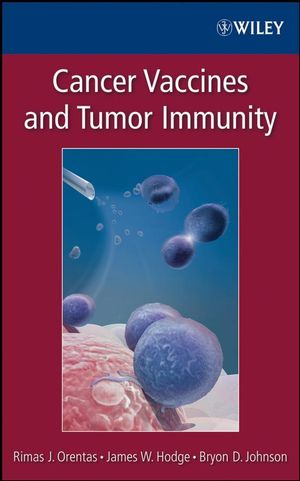 Cancer Vaccines and Tumor Immunity
ISBN: 978-0-470-17010-6 October 2007 352 Pages
Description
Cancer Vaccines and Tumor Immunity offers a review of the basic scientific discoveries that have moved forward into clinical trials. Presented in the context of real-world human research and experimentation, these major scientific advances demonstrate how our understanding of immune activation, T-regulatory cells, and autoimmunity will impact cancer vaccine design. The authors also explain how vaccination in the context of bone marrow transplantation will open new avenues for clinical study in the future.
Contributors.
Foreword. Cancer Vaccines and Cancer Immunotherapy. A New Paradigm(Jeffrey Schlom).
PART I. INTRODUCTION.
Chapter 1. Cancer Vaccines. Progress and Promise (Rimas J. Orentas, Bryon Johnson, and James Hodge).
PART II. ADJUVANT THERAPY: ENHANCING THE ENDOGENOUS IMMUNE RESPONSE.
Chapter 2. Fully Synthetic Carbohydrate-Based Anti-Tumor Vaccines (Rebecca M. Wilson and Samuel J. Danishefsky).
Chapter 3. Bacillus Calmette-Guerin Immunotherapy of Genitourinary Cancer (Donald L. Lamm).
Chapter 4. Stimulation of Toll-like Receptor 9 for Enhancing Vaccination (Daniel E. Speiser and Arthur M. Krieg).
PART III. ANTIGEN-SPECIFIC THERAPY: NOVEL PRESENTATION OF PEPTIDE AND PROTEIN ANTIGENS.
Chapter 5. Polyepitope Vaccines (Corey Smith and Rajiv Khanna).
Chapter 6. Antigen-Specific Cancer Immunotherapy: HPV-Associated Cervical Cancer as a Model System (Shaw-Wei D. Tsen, Chien-Fu Hung, and T.-C. Wu).
Chapter 7. Poxviral Vectors for Cancer Vaccines: State of the Art (Elizabeth K. Wansley).
Chapter 8. Immunotherapeutic Strategies Against Cancer Using Listeria Monocytogenes as a Vector for Tumor Antigens (Nicholas C. Souders, Thorsten Verch and Yvonne Paterson).
Chapter 9. Coupling Innate and Adaptive Immunity with Yeast-based Cancer Immunotherapy (Sibyl Munson, Joanne Parker, Tom King, Yingnian Lu, Victoria Kelley, Zhimin Guo, Virginia Borges, and Alex Franzusoff).
PART IV. CELL-BASED THERAPY: USING CANCER CELLS AS A MEANS TO INDUCE SPECIFIC TUMOR IMMUNITY.
Chapter 10. Allogeneic Whole Cell Vaccines (John Copier and Angus Dalgleish).
Chapter 11. Jump-Starting Tumor Immunity with Breast Cancer Therapeutics (Leisha A. Emens).
Chapter 12. T-Regulatory Cell Manipulation in Tumor Immunotherapy (Jens Rüter, Brian G. Barnett, Ilona Kryczek, Michael J. Brumlik, Benjamin J. Daniel, George Coukos, Weiping Zou, Tyler J. Curiel).
Chapter 13. Tumor Vaccination after Autologous HSCT: What has been Learned from Experimental Models? (Weiqing Jing and Bryon D. Johnson).
Chapter 14. Vaccines in the Setting of Hematopoietic Stem Cell Transplantation (Ronald Gress and Claude Sportes).
Chapter 15. Intratumor Generation of Vigorous Antitumor Immune Responses (Ping Yu and Yang-Xin Fu).
Chapter 16. Cancer Immunotherapy: Untapping the Potential of Co-Stimulatory Molecules Beyond CTLA-4 (Mathew Augustine, and Lieping Chen).
PART V. DEFINING EFFECTIVE CLINICAL RESPONSES.
Chapter 17. Advances in Immune Monitoring Strategies for Cancer Vaccines and Immunotherapy (Seunghee Kim-Schulze, Moshe Ornstein and Howard L. Kaufman).
Chapter 18. Immune Evaluation of Cancer Vaccines (Theresa L. Whiteside).
Index.