Cancer and Emotion: A Practical Guide to Psycho-oncology, 3rd Edition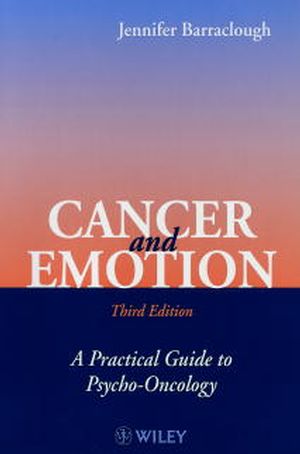 Cancer and Emotion: A Practical Guide to Psycho-oncology, 3rd Edition
ISBN: 978-0-470-84240-9 December 2001 236 Pages
Description
Cancer and Emotion A Practical Guide to Psycho-Oncology Third Edition Jennifer Barraclough, Consultant in Psychological Medicine, Oxford Radcliffe NHS Trust, Oxford, UK Emotional aspects of cancer affect patients, their partners and families, and the staff providing care. Most of those involved experience emotional distress. Some develop severe anxiety, depression or other psychiatric syndromes. Whether emotional factors influence the medical prognosis of cancer remains uncertain, but there is no doubt that emotional aspects of this disease are central to patients' quality of life. Many of the common problems can be prevented or treated effectively, provided their importance is recognised. Cancer and Emotion is a descriptive introduction to adult psycho-oncology. Primarily written for healthcare professionals in oncology, palliative care, general practice and mental health, it will also appeal to interested lay readers including patients. This third edition has been updated throughout, with expanded coverage of some topical issues, including psychological aspects of cancer pain, holistic approaches to cancer and organisation of a psycho-oncology service. The book also contains numerous personal accounts written by patients themselves.
Table of contents
Cancer Diagnosis.

Anticancer Treatment.

Models of Psychological Response.

Emotional Problems in Reaction to Cancer.

Psychological Aspects of Medical Syndromes.

The Outcome of Cancer.

Families and Carers.

Issues for Oncology Staff.

Treatments in Psycho-Oncology.

Holistic and Complementary Approaches.

Index.
Reviews
"..it should be essential reading for all health care professionals involved in cancer care.", , , Palliative Medicine#