Cancer and its Management, 6th Edition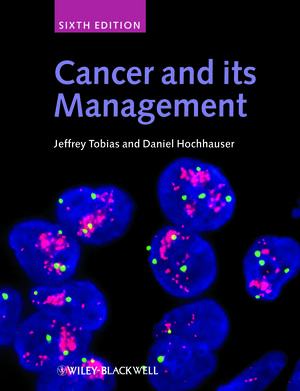 Cancer and its Management, 6th Edition
ISBN: 978-1-444-30636-1 November 2009 Wiley-Blackwell 576 Pages
Description
Now in its sixth edition, this highly-regarded book is designed as an introductory text on the principles of diagnosis, staging and treatment of tumours. The new edition:
Includes up-to-date information on the most recent techniques and therapies available
Emphasises the importance of multidisciplinary teamwork in the care of cancer patients
Highlights frequent dilemmas and difficulties encountered during cancer management
Features the important contributions of a new author Professor Daniel Hochhauser
Contains a brand-new two-colour design
As with previous editions, the first part of the book is devoted to the mechanisms of tumour development and cancer treatment. This is followed by a systematic account of the current management of individual major cancers. For each tumour there are details of the pathology, mode of spread, clinical presentation, staging and treatment with radiotherapy and chemotherapy.
This accessible and practical resource will be invaluable to trainees in oncology, palliative care and general medicine, as well as specialist nurses, general practitioners, medical students, and professions allied to medicine.


This title is also available as a mobile App from MedHand Mobile Libraries. Buy it now from Google Play or the MedHand Store.
Table of contents
1 The modern management of cancer: an introductory note.
2 Epidemiology, cure, treatment trials and screening.
3 Biology of cancer.
4 Staging of tumours.
5 Radiotherapy.
6 Systemic treatment for cancer.
7 Supportive care and symptom relief.
8 Medical problems and radiotherapy emergencies.
9 Paraneoplastic syndromes.
10 Cancer of the head and neck.
11 Brain and spinal cord.
12 Tumours of the lung and mediastinum.
13 Breast cancer.
14 Cancer of the oesophagus and stomach.
15 Cancer of the liver, biliary tract and pancreas.
16 Tumours of the small and large bowel.
17 Gynaecological cancer.
18 Genitourinary cancer.
19 Testicular cancer.
20 Thyroid and adrenal cancer.
21 Cancer from an unknown primary site.
22 Skin cancer.
23 Bone and soft-tissue sarcomas.
24 Paediatric malignancies.
25 Hodgkin's disease.
26 Non-Hodgkin's lymphomas.
27 Myeloma and other paraproteinaemias.
28 Leukaemia.
29 New biologicals
Reviews
"This is an excellent reference for those early in their oncology careers or who would benefit from a contemporary review of a specific subject. The authors have met this goal, and I am confident that a seventh edition will be forthcoming." (Int. J. Radiation Oncology Biol. Phys., November 2010)

"The book is perfectly suited to its intended target audience i.e. individuals that need a general introduction to the treatment of cancer. Indeed, it represents a cheaper and faster reading than volumes specifically written for oncologists although the latter might still enjoy reading the more general chapters." (Hematological Oncology, July 2010)
Features
Comprehensive, well-established and practical reference source of both common and rarer forms of cancer with new two-colour text design.


Includes up-to-date information on the most recent techniques and therapies available.

Covers controversial topics including screening, genetic testing, prevention and AIDS-related cancers.

Provides the reader with fundamental knowledge about oncogenes, epidemiology and staging, through to basic actions of different treatment modalities.