Cancer and the Family, 2nd Edition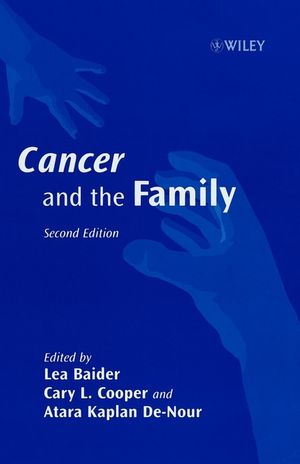 Cancer and the Family, 2nd Edition
ISBN: 978-0-470-84239-3 December 2001 572 Pages
Description
An extensively updated and extended new edition of this highly successful book on how cancer affects every individual within a family and has a major impact on the family structure itself. It covers a very broad range of topics from sexual problems to how children view cancer (in their parents, their siblings and in themselves).

Cancer remains one of the most common and serious diseases at the dawn of the new millennium, and since the publication of the first, highly successful edition, great strides have been made as research and clinical studies have shed new light on the important role of the family in cancer. This new edition incorporates this new knowledge and discusses areas such as:

* The role of culture and belief systems

* Specific family intervention

* The impact of genetics on the response of patients and their families to cancer

The editors and authors of this second edition have succeeded in providing a refreshing and comprehensive view of the issues confronting families around the world when one of their members is diagnosed with cancer.
Table of contents
Partial table of contents: FAMILIES: THEORETICAL AND METHODOLOGICAL ISSUES.

Family Processes and Chronic Illness (P. Steinglass).

Family Reorganization in Response to Cancer: A Developmental Perspective (K. Weihs & D. Reiss).

SOCIAL SUPPORT AND CULTURAL PERSPECTIVE.

The Role of Family Support in Cancer Control (J. Bloom).

A Cross-Cultural Comparison of Social Support Among Asian-American and Euro-American Women Following Breast Cancer (M. Kagawa-Singer & T.-U. Nguyen).

Culture, Cancer, and the Family (C. Gotay).

PSYCHOLOGICAL INTERVENTIONS WITHIN THE FAMILY.

Preventing Affective Disorders in Partners of Cancer PatientsAn Intervention Study (C. Pitceathly & P. Maguire).

THE CHILD'S PERCEPTION OF A PARENT'S ILLNESS.

Blowing Away the Myths About the Child's Experience with the Mother's Breast Cancer (F. Lewis, et al.).

Correlates of Self-Esteem Among Children Facing the Loss of a Parent to Cancer (K. Siegel, et al.).

DYNAMIC CHANGES IN FAMILIES WITH A CHILD WITH CANCER.

Factors Contributing to the Psychological Adjustment of Parents of Pediatric Cancer Parents (J. Hoekstra-Weebers, et al.).

'My Family and I are in This Together': Children with Cancer Speak Out (B. Sourkes & R. Proulx).

SEXUALITY: PERCEPTION OF SELF.

Sexual Self-Concept for the Woman with Cancer (B. Andersen & D. Golden-Kreutz).

GENETICS: FAMILIAL RISK.

Communication of Individualized Cancer Risk Information within the Family Context (J. Bottorff, et al.).

Genetic Counseling for Cancer: A Family Issue (E. Bleiker & N. Aaronson).

TERMINAL ILLNESS AND SYSTEMS OF BELIEF.

The Family in Terminal Illness (S. Wein).

Religion, Cancer, and the Family (B. Spilka & S. Hartman).

MEDICAL ETHICS AND COMMUNICATION.

Patient-Family Communication with Physicians (C. Blanchard, et al.).

Cancer, Medical Ethics, and the Family (C. Hook).

Index.