Cane Sugar Handbook: A Manual for Cane Sugar Manufacturers and Their Chemists, 12th Edition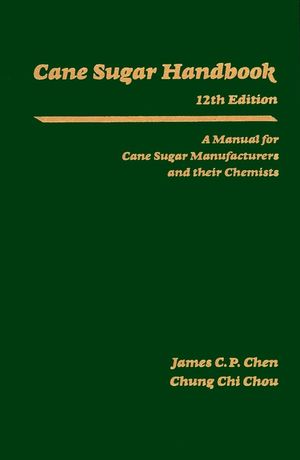 Cane Sugar Handbook: A Manual for Cane Sugar Manufacturers and Their Chemists, 12th Edition
ISBN: 978-0-471-53037-4
Nov 1993
1120 pages
Description
In print for over a century, it is the definitive guide to cane sugar processing, treatment and analysis. This edition expands coverage of new developments during the past decade--specialty sugars, plant maintenance, automation, computer control systems and the latest in instrumental analysis for the sugar industry.
Partial table of contents:

RAW SUGAR MANUFACTURE.

Sugarcane (J. Irvine).

Methods of Cane Purchase (J. Chen).

The Crystallization of Sugar (J. Chen).

CANE SUGAR REFINING.

Raw Sugar Purchase, Marketing and Receiving (F. Hill).

Decolorization (R. Riffer).

Centrifugation (C. Stowe).

PRODUCTION AND PROCESS CONTROLS.

Definitions and Terms in Sugar Factory and Refinery Controls (J. Chen & C.-C.

Chou).

Sugar House and Refinery Calculations (J. Chen & C.-C.

Chou).

Energy Conservation (K. Sinclair).

ANALYTICAL PROCEDURES.

Special Laboratory Reagents (J. Chen).

Instrumental Analysis for the Sugar Industry (C.-C.

Chou).

Determination of Color and Turbidity in Sugar Products (C.-C.

Chou).

Reference Tables.

Index.