Cannabis - Philosophy for Everyone: What Were We Just Talking About?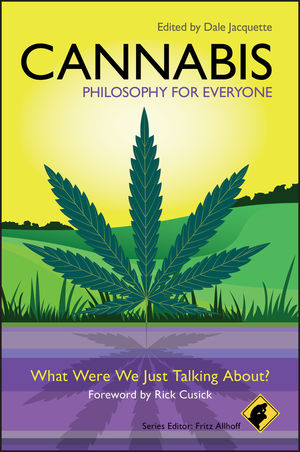 Cannabis - Philosophy for Everyone: What Were We Just Talking About?
ISBN: 978-1-444-32444-0 August 2010 Wiley-Blackwell 264 Pages
Description
The debate on the status and legality of cannabis continues to gain momentum. Here, personal anecdotes combined with academic and scientific reports combine to sharpen some of the fascinating philosophical issues associated with cannabis use. 
A frank, professionally informed and playful discussion of cannabis usage in relation to philosophical inquiry
Considers the meaning of a 'high', the morality of smoking marijuana for pleasure, the slippery slope to more dangerous drugs, and the human drive to alter our consciousness
Not only incorporates contributions from philosophers, psychologists, sociologists or legal, pharmacological, and medical experts, but also non-academics associated with the cultivation, distribution, and sale of cannabis
Brings together an international team of writers from the United States, Canada, UK, Finland, Switzerland, South Africa, and New Zealand
Foreword (
Richard Cusick
).
Preface (Dale Jacquette).
Introduction: What is Cannabis and How Can We Get Some? (Dale Jacquette).
PART I CANNABIS PHENOMENOLOGY.
1 A Cannabis Odyssey (Lester Grinspoon).
2 Seeing Snakes: On Delusion, Knowledge, and the Drug Experience (G. T. Roche).
3 The Cannabis Experience: An Analysis of "Flow" (Andrew D. Hathaway and Justin Sharpley).
PART II MARIJUANA AND SPIRITUAL ENLIGHTENMENT.
4 Buzz, High, and Stoned: Metaphor, Meaning, and the Cannabis Experience (Michael Montagne).
5 The Great Escape (Charles Taliaferro and Michel Le Gall).
6 Cannabis and the Human Condition: "Something of the Kind is Indispensable"(Brian R. Clack).
PART III CREATIVELY HIGH.
7 Hallucinatory Terror: The World of the Hashish Eater (Tommi Kakko).
8 Marijuana and Creativity (Ryan E. Holt and James C. Kaufman).
9 Navigating Creative Inner Space on the Innocent Pleasures of Hashish (Dale Jacquette).
PART IV PSYCHO-SOCIOLOGICAL DIMENSIONS OF CANNABIS CULTURE.
10 Cannabis and the Culture of Alienation (Mark Thorsby).
11 Reefer Madness: Cannabis, the Individual, and Public Policy (Tuomas E. Tahko).
12 Soft vs. Hard: Why Drugs are Not Like Eggs (Brian Penrose).
PART V CANNABIS ETHICS AND POLITICS.
13 "Smoking Pot Doesn't Hurt Anyone But Me!" Why Adults Should be Allowed to Consume Cannabis (Jack Green Musselman, Russ Frohardt, and D. G. Lynch).
14 Pot Politics: Prohibition and Morality (Mitch Earleywine).
15 Cannabis and the Good Life: Needs, Capabilities, and Human Flourishing (Theodore Schick, Jr.)
16 Weakness of Will: The Cannabis Connection (Michael Funke).
Notes on Contributors.
"Many interesting dimensions of cannabis research are reflected in this book, which is written in an intelligent and entertaining style." (About.com, 11 September 2011)
"Cannabis: Philosophy for Everyone- What Were We Just Talking About? Provides a refreshing collection of essays- from both sides of the fence- on the many philosophical facets of pot ingestion...HIGH TIMES associate publisher Rick Cusick writes in the foreword: "While I personally believe that legalizing cannabis would encourage a more civilized society, I also recognize that reasonable people can disagree.  That is why this book is so timely and important.  There are overblown claims on both sides of the equation and we need to have the more disciplined discourse that philosophy provides." (HIGH TIMES, February 2011)"Their newest release Cannabis-Philosophy for Everyone aims to bridge the world of academia, as it relates to cannabis, with the interests and concerns of those on the outside. Contributors include international scholars in the fields of philosophy, psychology, sociology, law, pharmacology, psychotherapy, and medicine as well as non-academics associated with the cultivation, distribution, and sale of cannabis. For those looking for a thought-provoking, heady read, find out more about this book at www.wiley.com." (Nug Magazine, November 2010)"The book is both high- and low-brow and is sure to please undergrads searching for epiphanies while hanging out in hazy basements." (The Washington Post, November 2010)
"It's a serious read that should be on your bookshelf. We are going to say, especially if you are a cannabis industry / business owner; this book will help you to understand your product and the people that love it so that you can apply what you've learned in "philosophy class" to the real world in a way that will boost your brand.." (Hempista, 24 October 2010)