Canon EOS Digital Rebel XSi/450D For Dummies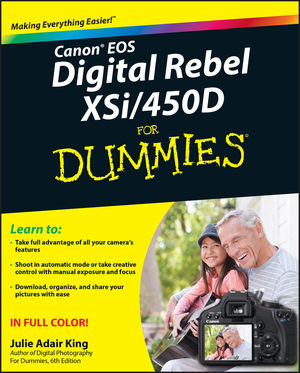 Canon EOS Digital Rebel XSi/450D For Dummies
ISBN: 978-1-118-05263-1 April 2011 352 Pages
Description
If you're as excited as we are about the Rebel XSi/450D, you probably can't wait to start shooting. Canon EOS Digital Rebel XSi/450D For Dummies will show you how to make every shot count! Even if you're new to digital SLR cameras or are unfamiliar with general photography terms and techniques, this handy guide will show you how to feel comfortable with the controls and start taking beautiful photographs.

Don't worry if you've never heard the words aperture, white balance, or ISO. You'll soon be switching easily between automatic and manual modes, managing exposure, and using the all-important Quality setting! You'll learn everything about the lenses, from how to choose the ones you need to how to handle them. You'll finally know how to push just the right buttons to achieve the results that you desire. In a snap, you will find out how to unleash your creativity by manipulating exposure and lighting. You will find out how to:
Control picture quality
Adjust resolution for image quality and size
Shoot in automatic and manual modes
Review photos using Playback Mode and the histogram, delete unwanted photos, and protect valuable photos from accidental deletion
Manipulate exposure, color, focus, and lighting
Download, organize, archive, print, and share photos with family and friends
Complete with lists of ten fast photo-editing tricks and ten special-purpose features to explore on a rainy day, Canon EOS Digital Rebel XSi/450D For Dummies is your one-stop guide to setting up, working with, and making the most of your new Canon digital SLR camera.
Introduction.
Part I: Fast Track to Super Snaps.
Chapter 1: Getting the Lay of the Land.
Chapter 2: Taking Great Pictures, Automatically.
Chapter 3: Controlling Picture Quality.
Chapter 4: Monitor Matters: Picture Playback and Live View Shooting.
Part II: Taking Creative Control.
Chapter 5: Getting Creative with Exposure and Lighting.
Chapter 6: Manipulating Focus and Color.
Chapter 7: Putting It All Together.
Part III: Working with Picture Files.
Chapter 8: Downloading, Organizing, and Archiving Your Photos.
Chapter 9: Printing and Sharing Your Photos.
Part IV: The Part of Tens.
Chapter 10: Ten Fast Photo-Editing Tricks.
Chapter 11: Ten Special-Purpose Features to Explore on a Rainy Day.
Index.