Canon EOS Digital Rebel XTi / 400D Digital Field Guide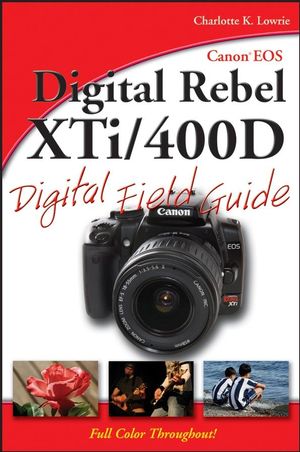 Canon EOS Digital Rebel XTi / 400D Digital Field Guide
ISBN: 978-0-470-11007-2
Feb 2007
288 pages
Product not available for purchase
Description
This full-color book is designed to tap the exploding market in serious digital photography with over 250 pages of new and beautiful photos, essential photography how-to information and no-fail formulas for getting great digital pictures with the newly announced Canon EOS Digital Rebel XTi/400D. It goes above and beyond competitive digital SLR books with step-by-step techniques that cover exposure, composition, and professional shooting tips on perspective, impact, and more. Charlotte K. Lowrie, author of two previous Digital Field Guides (see below), is an acclaimed photographer who was managing editor of editorial content for MSN Photos and now writes online instructional content for Canon.

Charlotte K. Lowrie (Woodinville, WA) is a freelance editorial and stock photographer and an award-winning writer. Her work has appeared in Popular Photography & Imaging and PHOTOgraphic magazines, and she is the author of the bestselling Canon EOS Digital Rebel Digital Field Guide as well as Adobe Camera Raw Studio Skills, the Canon EOS 30D Digital Field Guide, and Teach Yourself Visually Digital Photography, Second Edition, all from Wiley. Charlotte also teaches photography classes through BetterPhoto.com.
Introduction.
Quick Tour.
Part I: Using the Digital Rebel XTi/400D.
Chapter 1: Exploring and Setting Up the Digital Rebel XTi/400D.
Chapter 2: Using Your Digital Rebel XTi/400D.
Part II: Creating Great Photos with the Digital Rebel XTi/400D.
Chapter 3: Photography Basics.
Chapter 4: Let There Be Light.
Chapter 5: The Art and Science of Lenses.
Chapter 6: Composition Basics.
Chapter 7: Techniques for Great Photos.
Chapter 8: Downloading and Editing Pictures.
Part III: Appendixes.
Appendix A: Custom Functions.
Appendix B: Internet Resources.
Glossary.
Index.