Canon EOS Rebel T3/1100D Digital Field Guide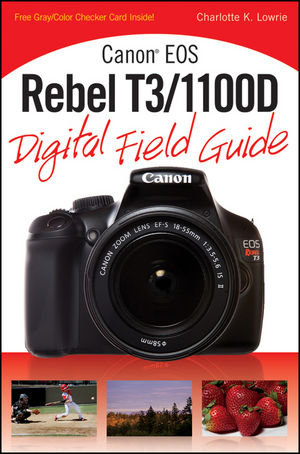 Canon EOS Rebel T3/1100D Digital Field Guide
ISBN: 978-1-118-13248-7 June 2011 304 Pages
Description
Learn to use every feature of your Canon T3/1100D and get great shots every time
Digital Field Guides offer step-by-step information about digital camera controls as well as tips and techniques for getting great photos in various common situations. This handy guide, perfectly sized to fit in a camera bag, explains how to use every button, dial, and setting on your Rebel T3/1100D and also covers using the improved HD video features, and in-camera movie editing options. Illustrated with the author's outstanding photos, the book provides recipes for getting the photo you want in any environment.
The EOS Rebel T3/1100D is Canon's newest entry-level dSLR camera, offering a streamlined and simplified experience for new dSLR users
This book explains every camera control, showing you how to use all the buttons, dials, and settings
Cover the exciting new HD video features and offers suggestions for getting outstanding shots in common shooting situations
Small-trim design makes it easy to take this guide along whenever you use your camera
Includes a gray card and color checker card used to maintain accurate color and white balance
New dSLR camera users will get up to speed quickly with the easy-to-follow guidance in this handy field guide.
Table of contents
Introduction.
QT: Quick Tour.
CHAPTER 1: Setting up the EOS Rebel T3/1100D.
CHAPTER 2: Controlling Exposure and Focus.
CHAPTER 3: Getting Great Color and Adding Creative Looks to Images.
CHAPTER 4: Customizing the EOS Rebel T3/1100D.
CHAPTER 5: Shooting with a Live View on the LCD.
CHAPTER 6: Using Movie Mode.
CHAPTER 7: Working with Flash.
CHAPTER 8: Exploring Lenses and Accessories.
CHAPTER 9: The Elements of Exposure and Composition.
APPENDIX A: Exploring RAW Capture.
APPENDIX B: How to Use the Gray Card and Color Checker.
Glossary.
Index.