Capital: The Story of Long-Term Investment Excellence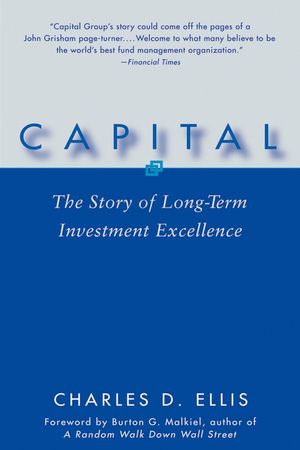 Capital: The Story of Long-Term Investment Excellence
ISBN: 978-1-118-16090-9
Jul 2011
336 pages
Description
Go inside the elite investment firm with Capital.

The Capital Group is one of the world?s largest investment management organizations, but little is known about it because the company has shunned any type of publicity. This compelling book, for the first time, takes you inside one of the most elite and private investment firms out there?the Capital Group Companies?a value investment firm par excellence. It digs deeps to reveal the corporate culture and long-term investment strategies that have made Capital the one organization where most investment professionals would like to work and would most recommend as long-term investment managers for their family and friends.
Foreword.
Introduction.
Chapter 1. The Founding.
Chapter 2. Staying Alive.
Chapter 3. the Multiple-counselor System.
Chapter 4. Organizing the Core.
Chapter 5. Mutual Fund Distribution.
Chapter 6. Crossing the Rubicon: Capital Group.
Chapter 7. Shareholder Services.
Chapter 8. Acquisitions and Start-Ups.
Chapter 9. Capital Guardian Trust Company.
Chapter 10. Global Investing.
Chapter 11. Emerging Markets.
Chapter 12. Managing People.
Chapter 13. Management.
Chapter 14. Compensation.
Chapter 15. Investing.
Afterword.
Appendix I. Summary Statement of Corporate Objectives and Goals.
Appendix II. Outline of Basic Managerial Beliefs.
Appendix III. Growth of the Capital Group Companies, Inc.
Index.
AUTHOR IS A PROFESSOR.  Ellis teaches an Investment Management course at both Yale School of Management and Harvard Business School.
AUTHOR HAS COMPLETE ACCESS. After over 70 years of deliberately avoiding publicity, Capital Group Companies has granted Charles Ellis complete access to tell their story. Capital has the best performance of any money manager over the long term, but no book has been written about the firm--until now.
A CLASSIC, ALL-AMERICAN SUCCESS STORY based on persistent enterprise, superb professionalism, and the value of consistently principled business conduct. Over the past 5, 10, 20, and 40 year periods, the firm has been in the top quartile for large mutual funds, and top quartile for domestic equities, bonds, international equities, and emerging market equities. No firm can boast of similar performance across markets.
ELLIS IS AN EXPERIENCED AUTHOR WITH A GREAT TRACK RECORD. Ellis' Winning the Loser's Game is regarded as a classic. This is his next important work on investment.