Capital Budgeting: Theory and Practice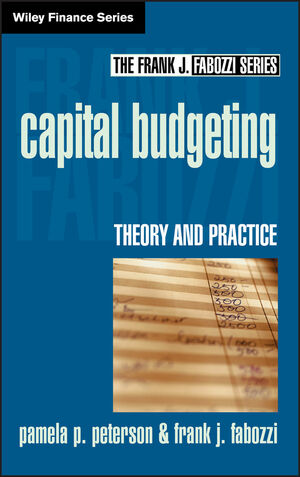 Capital Budgeting: Theory and Practice
ISBN: 978-0-471-21833-3
Feb 2002
243 pages
Description
Capital investment decisions are a constant challenge to all levels of financial managers. Capital Budgeting: Theory and Practice shows you how to confront them using state-of-the-art techniques.

Broken down into four comprehensive sections, Capital Budgeting: Theory and Practice explores and illustrates all aspects of the capital budgeting decision process. Pamela Peterson and Frank Fabozzi examine the critical issues and limitations of capital budgeting techniques with an in-depth analysis of:
Classifying capital budgeting proposals
Determining the relevant cash flows for capital budgeting proposals
Assessing the economic value of a capital budgeting proposal using different techniques
Incorporating risk into the capital budgeting decision
Evaluating whether to lease or borrow-to-buy
Capital Budgeting: Theory and Practice provides the knowledge, insight, and advice that will allow you to handle one of the most important aspects of your firm's financial management. Advanced enough for practitioners yet accessible enough for the novice, Capital Budgeting: Theory and Practice is your complete guide to understanding and benefiting from the essential techniques of capital budgeting.
About the Authors.

Preface.

SECTION I: MAKING INVESTMENT DECISIONS.

The Investment Problem and Capital Budgeting.

Cash Flow Estimation.

Integrative Examples and Cash Flow Estimation in Practice.

SECTION II: CAPITAL BUDGETING EVALUATION TECHNIQUES.

Payback and Discounted Payback Period Techniques.

Net Present Value Technique.

Profitability Index Technique.

Internal Rate of Return Technique.

Modified Internal Rate of Return Technique.

Comparing Evaluation Techniques and Some Concluding Thoughts.

SECTION III: CAPITAL BUDGETING AND RISK.

Measurement of Project Risk.

Incorporating Risk in the Capital Budgeting Decision.

SECTION IV: ANALYZING THE LEASE VERSUS BORROW-TO-BUY PROBLEM.

Valuing a Lease.

Uncertainty and the Lease Valuation Model.

Generalization of the Lease Valuation Model.

Appendix: The Fundamental of Equipment Leasing.

Index.