Capital Culture: Gender at Work in the City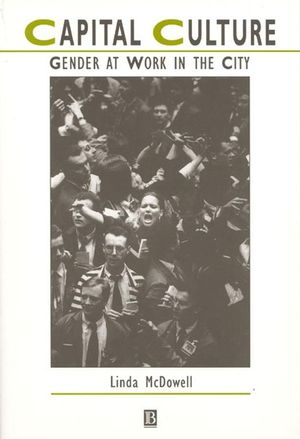 Capital Culture: Gender at Work in the City
ISBN: 978-0-631-20531-9 December 1997 Wiley-Blackwell 260 Pages
Description
The changing nature of waged work in contemporary advanced industrial nations is one of the most significant aspects of political and economic debate. It is also the subject of intense debate among observers of gender.
Capital Culture
explores these changes focusing particularly on the gender relations between the men and women who work in the financial services sector. The multiple ways in which masculinities and femininities are constructed is revealed through the analysis of interviews with dealers, traders, analysts and corporate financiers.
Drawing on a range of disciplinary approaches, the various ways in which gender segregation is established and maintained is explored. In fascinating detail, the everyday experiences of men and women working in a range of jobs and in different spaces, from the dealing rooms to the boardrooms, are examined. This volume is unique in focusing on men as well as women, showing that for men too there are multiple ways of doing gender at work.
Table of contents
List of Illustrations.
List of Tables.
Series Preface.
Acknowledgements.
Introduction: Money and Work..
Part I. Gender at Work.
Thinking through Work: Gender, Power and Space.
City Work/Places: The Old and New City.
Gendered Work Patterns.
Gendered Career Paths.
The Culture of Banking: Reproducing Class and Gender Divisions..
Part II. Bodies at Work.
Engendered Cultures: The Impossibility of Being a Man.
Body Work 1: Men Behaving Badly.
Body Work 2: The Masqueraders.
Conclusions: Rethinking Work/Places.
Appendix: The Field Work.
Bibliography.
Index.
Reviews
"Some places are immensely symbolic of economic or political power. One such place, the 'City' in London, has long represented the world of international finance both as objectification (the City 'says this') of that world and as the seat of numerous banking, stockbroking and insurance firms. Lacking has been much attention to the cultural practices upon which this material and symbolic power of place is based. Through the lens provided by the gendered character of workplace relations Linda McDowell throws light on the ways in which the City works. No longer dominated by the stuffy image of bowlers and brollies, the City nevertheless is still hostile territory for those whose identities (including many women) are marginalized by the implicit masculinity of City ways. This is a brilliant book, showing the possibilities for theoretically-informed fieldwork on cultural practices at a time when some despair that fieldwork can reveal much of anything."
John Agnew, University of California, Los Angeles
"In a short review of this type it is impossible to do full justice to such a rich and thought provoking book." Rob Atkinson, Capital and Class
"This book deserves a wide audience: students of the service sector should find McDowell's theoretical and conceptual insights about this topic useful; students of gender and work will encounter a carefully drawn case study of how gender distinctions are constructed and reproduced on the job. Finally, those interested in cultivating links between their sociological and geographical imaginations will find that Capital Culture can help them to achieve this goal." Amy S. Wharton, Washington State University.
" I cannot recommend this text highly enough. it has everything: theory linking gender relations with power and work; analysis of city gendered life; rich empirical material taken from fieldwork in merchant banking; and, many thought provoking views on macsulinity and feminity." Bob Bushaway, University of Birmingham
Features


Cross-disciplinary approach provides a unique insight into the financial services sector.


Theoretical framework and summary is supported by empirical studies of the City after the Big Bang.


Illustrations support the text.