Capital Ideas: The Improbable Origins of Modern Wall Street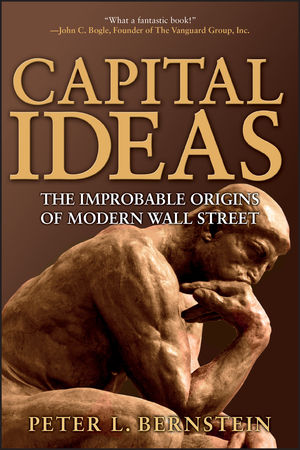 Capital Ideas: The Improbable Origins of Modern Wall Street
ISBN: 978-0-471-73174-0 June 2005 360 Pages
Description
Capital Ideas traces the origins of modern Wall Street, from the pioneering work of early scholars and the development of new theories in risk, valuation, and investment returns, to the actual implementation of these theories in the real world of investment management. Bernstein brings to life a variety of brilliant academics who have contributed to modern investment theory over the years: Louis Bachelier, Harry Markowitz, William Sharpe, Fischer Black, Myron Scholes, Robert Merton, Franco Modigliani, and Merton Miller. Filled with in-depth insights and timeless advice, Capital Ideas reveals how the unique contributions of these talented individuals profoundly changed the practice of investment management as we know it today.
Buy Both and Save 25%!
Original Price:$89.95
Purchased together:$67.46
save $22.49
Cannot be combined with any other offers.
Acknowledgments.
Introduction: The Revolution in the Wealth of Nations.
PART I: SETTING THE SCENE.
Chapter 1. Are Stock Prices Predictable?
PART II: THE WHOLE AND THE PARTS.
Chapter 2. Fourteen Pages to Fame.
Chapter 3. The Interior Decorator Fallacy.
Chapter 4. The Most Important Single Influence.
PART III: THE DEMON OF CHANCE.
Chapter 5. Illusions, Molecules, and Trends.
Chapter 6. Anticipating Prices Properly.
Chapter 7. The Search for High P.Q.
PAR IV: WHAT ARE STOCKS WORTH?
Chapter 8. The Best at the Price.
Chapter 9. The Bombshell Assertions.
Chapter 10. Risky Business.
Chapter 11. The Universal Financial Device.
PART V: FROM GOWN TO TOWN.
Chapter 12. The constellation.
Chapter 13. The Accountant for Risk.
Chapter 14. The Ultimate Invention.
PART VI: THE FUTURE.
Chapter 15. The View form the Top of the Tower.
Notes.
Bibliography and Other Sources.
Name Index.
Subject Index.
Successful first edition. The first edition sold about 40,000 copies in softcover.  It was published by Simon and Schuster, under the Free Press imprint.
Author reputation.  Peter Bernstein is a giant in the investment industry.  Without question, he is the preeminent historian of modern investment and finance.  He is the most widely-known, most respected, and best-selling author in professional investment and finance.
Broad audience.  Bernstein's books are popular with professionals in investment, finance, and economics – that's the foundation of his audience.  But clearly Bernstein's appeal transcends the boundaries the financial world.  Fundamentally, his books are about the history of ideas and how the ideas are manifested in the real world – and, as such, he appeals to intellectually active readers who may have only a casual interest in finance and investment.