Capital Markets and Institutions: A Global View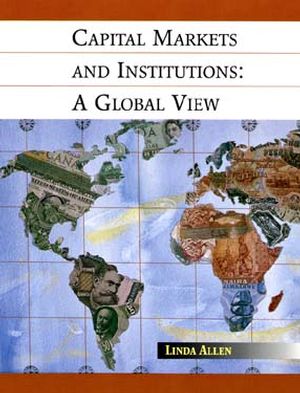 Capital Markets and Institutions: A Global View
ISBN: 978-0-471-13049-9 January 1997 800 Pages
Description
Intended for Junior/Senior/MBA course in Financial Markets, Capital Markets and Institutions. Using an international focus, this text integrates the financial markets with the activities of financial intermediaries. This approach enables students to understand the role of financial intermediaries in the development of financial markets. Throughout the text, the emphasis is on "how things are done on the street." The origins, major participants, pricing and settlements and typical transactions for all financial markets are also included.
Part I: The Role of Financial Institutions
* Finance and You
* Private Financial Intermediaries
* The World's Central Banks and Regulatory Authorities
* Monetary Policy
* Regulatory Policy
* Clearing and Settlement of Transactions
Part II: Valuation Models
* Computing Interest Rates and Risk Exposure
* Computing Foreign Exchange Rates and Risk Exposure
* Market Risk Measurement
Part III: Debt & Equity Markets
* The Federal Funds Market
* Repurchase Agreements
* Eurocurrencies
* Bankers Acceptances, Letters of Credit, and Certificates of Deposit
* Commercial Paper and Loan Commitments
* Government Securities
* Corporate Bonds
* Equity
Part IV: Derivatives Markets
* Financial Futures and Forward Contracts
* Financial Options
* Swaps
* Mortgage-Backed Securities
Glossary
Appendix
Credits
Index
Clear explanations with recent applications of quantitative models. The approach emphasizes "how things are done on the street."
International focus integrated throughout text.
Entire chapter dedicated to international central banks including Bundesbank, the Bank of England, and the Bank of Japan.
Unique chapter on settlements highlights the importance of settlement risk in global financial transactions.
"Border Crossings" sections before each part of the text look backwards and forwards, letting students apply what they have learned to future chapters.