Capitalism and Modernity: The Great Debate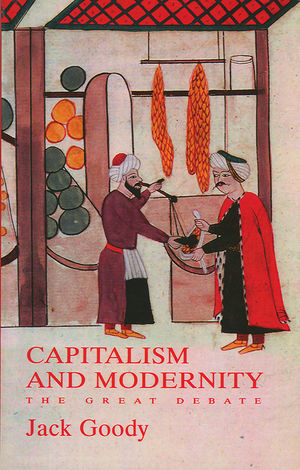 Capitalism and Modernity: The Great Debate
ISBN: 978-0-745-63799-0 May 2013 Polity 208 Pages
Description
This important new book investigates how the West attained its current position of economic and social advantage. In an incisive historical analysis, Jack Goody examines when and why Europe (and Anglo-America) started to outstrip all other continents in socio-economic growth. Drawing on non-Western examples of economic and technical progress, Goody challenges assumptions about long-term European supremacy of a 'cultural' kind, as was a feature of many theories current in social science. He argues that the divergence came with the Industrial Revolution and that the earlier bourgeois revolution of the sixteenth century was but one among many Eurasia-wide expressions of developing mercantile and manufacturing activity. This original book casts new light on the history of capitalism, industrialization and modernity, and will be essential reading for all those interested in the great debate about the economic rise of the West.
Table of contents
Acknowledgements.
Introduction.
1 Culture and the economy in early Europe.
2 The sixteenth century.
3 The other side of the coin.
4 Malthus and the East.
5 The challenge of China.
6 The Growth and Interchange of Merchant Cultures.
Notes.
References and Bibliography.
Index
Reviews
'One of the world's best-known anthropologists asks what modernity is [and] how it originated. [
Capitalism and Modernity
] updates readers very well on the state of the discussion.'
Kenneth Pomeranz, Journal of Social History
Features


written by one of the world's leading anthropologists;

fills the gap for an accessible comparative study of the history of capitalism;

examines the causes and nature of the West's position of economic advantage;

challenges assumptions about long-term European supremacy of a cultural' kind.