Car Audio For Dummies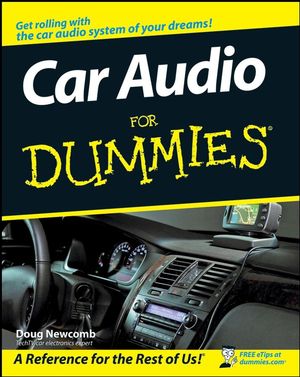 Car Audio For Dummies
ISBN: 978-0-470-28633-3 April 2008 340 Pages
Description
Thinking about a knockout audio system for your car? Not sure what you need, want, or can afford?
Car Audio For Dummies
is a great place to find some answers!
But wait — what if speakers that vibrate your floorboards don't turn you on? What if you're thinking more about hands-free phone access and a DVD player to entertain the kids? Surprise! Car Audio For Dummies can give you a hand there, too. Whether you want to feel as if your favorite band is performing right on top of your dashboard or you want to keep the soccer team entertained on the way to the tournament, this friendly guide can help.
From planning your system and buying components to getting them installed and protecting your investment, you'll find plenty of wise advice. Get the scoop on:
Figuring out what kind of equipment you need to do what you want
Identifying good sound quality when you hear it
Adding components to a factory system
Choosing a video player, hands-free phone system, amplifiers, speakers, and more
Finding a reliable installer (today's automotive electronics systems are so complex that you probably won't want to go it alone)
Understanding warranties and returns
Protecting and insuring your system
Car Audio For Dummies is sort of like that knowledgeable friend you want to take along when you tackle a project like this. Sounds like a good idea, doesn't it?
Table of contents
Foreword.
Introduction.
Part I: Starting with Sound Advice.
Chapter 1: Exploring the World of Car Audio.
Chapter 2: Considering Stock Systems.
Chapter 3: Knowing What Sounds Good.
Part II: Shopping for a Great System.
Chapter 4: Finding the Right Retail Experience.
Chapter 5: Installing Your System: Going Pro or Going Solo.
Part III: Selecting the Best Components.
Chapter 6: Starting with the Head.
Chapter 7: Carrying All Your Tunes.
Chapter 8: The Golden Age of Wireless.
Chapter 9: Moving Pictures.
Chapter 10: Considering Head Unit Features.
Chapter 11: Pumping Up the Volume.
Chapter 12: Choosing the Right Amplifier.
Chapter 13: Installing an Amplifier.
Chapter 14: Sounding Off with Speakers.
Chapter 15: Installing Speakers.
Chapter 16: Going Low with Subwoofers.
Chapter 17: Equalizing, Processing, and Crossing Over.
Part IV: Tying It All Together.
Chapter 18: Wiring Your Car Audio System.
Chapter 19: Gearing Up with Accessories.
Chapter 20: Tuning Your System.
Part V: Protecting Your System and Yourself.
Chapter 21: Securing and Insuring Your System.
Chapter 22: Keeping Safe and Legal.
Part VI: The Part of Tens.
Chapter 23: Ten Steps to Great Sound.
Chapter 24: Ten Questions to Ask Your Salesperson or Installer.
Chapter 25: Ten Steps to Maintaining Your System.
Glossary.
Index.