Carbocation Chemistry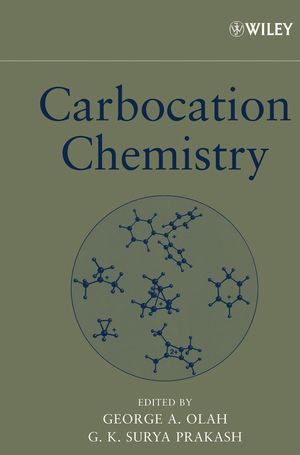 Carbocation Chemistry
ISBN: 978-0-471-28490-1
Oct 2004
408 pages
Description
A detailed understanding of reactive intermediates is at the heart of chemical transformations, and thus of modern organic synthetic chemistry. Carbocations are electron deficient species that are the most important intermediates in organic chemistry. This comprehensive review gives practical information on the synthesis, mechanisms, and spectral studies related to carbocation chemistry
* A detailed reference for all aspects of charbocation chemistry.
* With numerous classical examples of studies of carbocations to serve as illustrative principles in organic and physical organic chemistry.
* Provides insight into future developments in the field and practical applications.
Buy Both and Save 25%!
Original Price:$371.00
Purchased together:$278.25
save $92.75
Cannot be combined with any other offers.
Preface.
1. Historical Perspective (Peter J. Stang).
2. 100 Years of Carbocations and Their Significance in Chemistry (George A. Olah).
3. Zwitterionic ''Neutral'' and ''Anionic'' Carbocation Analogs (Chaitanya S. Wannere, Zhongfang Chen, and Paul von Rague´ Schleyer).
4. Recent Studies of Long-Lived Carbocations and Carbodications (G. K. Surya Prakash and V. Prakash Reddy).
5. Antiaromaticity Effects in Cyclopentadienyl Carbocations and Free Radicals (Annette D. Allen and Thomas T. Tidwell).
6. Long-Lived Carbocations in Cold Siberia (Vyacheslav G. Shubin and Gennady I. Borodkin).
7. Polyfluorinated Carbocations (Vitalij D. Shteingarts).
8. Carbocations, Fast Rearrangement Reactions, and the Isotopic Perturbation Method (Martin Saunders and Olga Kronja).
9. Stable Ion Chemistry of Polycyclic Aromatic Hydrocarbons (PAHs); Modeling Electrophiles from Carcinogens (Kenneth K. Laali).
10. Chromium Tricarbonyl–Coordinated Carbocations (Bruce N. Hietbrink, Dean J. Tantillo, Kendall N. Houk, and Craig A. Merlic).
11. Carbocations in Gold Chemistry (Hubert Schmidbaur and Keith A. Porter).
12. Proton Exchange between Strong Acids and Alkanes (Jean Sommer and Alain Goeppert).
13. Electrophilicity Scales for Carbocations (Herbert Mayr and Armin R. Ofial).
14. Organic Synthesis in Superacids (Jean-Claude Jacquesy).
Index.
""…an excellent book, which should be in every good chemistry department library."" (
Angewandte Chemie
, 2005; Vol. 44; 20)
""The field continues to be of major significance and the book is a valuable volume for those who follow such charged species in catalytic reactions."" (Energy Sources, June 2005)
""…a fascinating collection of review articles on this topic."" (E-STREAMS, April 2005)