Carbon-Based Metal-Free Catalysts: Design and Applications, 2 Volumes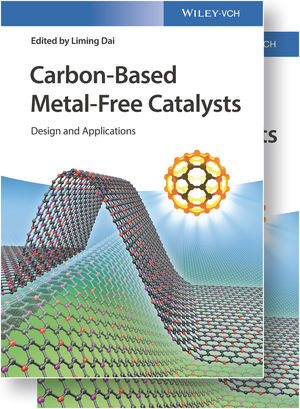 Carbon-Based Metal-Free Catalysts: Design and Applications, 2 Volumes
ISBN: 978-3-527-81143-4
Sep 2018
360 pages
Product not available for purchase
Description
Offering comprehensive coverage of this hot topic, this two-volume handbook and ready reference treats a wide range of important aspects, from synthesis and properties of carbon nanomaterials to their applications as metal-free catalysts in important industrial processes.
Following a look at the development of various important graphitic carbon materials and carbon-based catalyst supports, subsequent sections deal with a mechanistic understanding for the molecular design of efficient carbon-based metal-free catalysts, with a special emphasis on heteroatom-doped carbon nanotubes, graphene and graphite along with recent advances in the development of carbon-based metal-free catalysts. Examples of important industrial processes covered include clean energy conversion and storage, environmental protection, and synthetic chemistry. The book is rounded off by a summary of the current challenges and future opportunities in this exciting field.
With contributions from world-leading scientists, this is an indispensable source of information for academic and industrial researchers in catalysis, green chemistry, materials science, nanotechnology, energy technology and chemical engineering, as well as graduates and scientists entering the field.

PART I. CARBON MATERIALS (Graphitic and Amorphous Carbon, Carbon Nanotubes, Graphene, Graphitic Carbon Nitride, Heteroatom-Doped Carbon Materials)
PART II. CARBON-BASED CATALYST SUPPORTS
Metal-Based Catalysts vs. Metal-Free Catalysts
Metal-Based Catalysts Supported by Carbon Materials
Metal-Based Catalysts Supported by Heteroatom-Doped Carbon Materials
PART III. CARBON-BASED METAL-FREE CATALYSTS
Electrocatalysis (ORR, OER, HER)
Electrocatalysis of CO2 Reduction
Electrocatalysis of I-/I3- or Co(bpy)32+/3+ Reduction
Photoelectrocatalysis
Photocatalysis
Chemical Catalysis
PART IV. MECHANISTIC UNDERSTANDING AND RATIONAL DESIGN OF CARBON-BASED METAL-FREE CATALYSTS
(Active Centers, Design Principles, Molecular Design, Structural Design)
PART V. MULTIFUNCTIONAL APPLICATIONS OF CARBON-BASED METAL-FREE CATALYSTS
Renewable Energy Technologies
Environmental Protections
Chemical Production
Merging Applications