Card Games For Dummies, 2nd Edition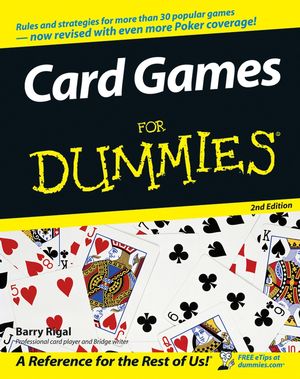 Card Games For Dummies, 2nd Edition
ISBN: 978-0-764-59910-1 October 2005 384 Pages
Description
Card games offer loads of fun and one of the best socializing experiences out there. But picking up winning card strategies is a bit of a challenge, and though your buddies may think that picking up the rules of the game is easy, winning is a totally different story.

With Card Games For Dummies, Second Edition, you'll not only be able to play the hottest card games around, you can also apply game-winning strategies and tips to have fun and beat your opponents. Now updated, this hands-on guide shows you everything you need to know—the basics, the tricks, and the techniques—to become a master card player, with expanded coverage on poker as well as online gaming and tournaments. Soon you will have the card-playing power to:
Pin down your opponents in Texas Hold'em
Show off your power in Stud Poker
Hit wisely in Blackjack
Break hearts ruthlessly in Hearts
Mix up the night with Gin and Rummy
Build yourself a victory in Bridge
Send them fishing in Go Fish
This straightforward, no-nonsense guide features great ways to improve your game and have more fun, as well as a list of places to find out more about your favorite game. It also profiles different variations of each game, making you a player for all seasons!
Foreword.
Introduction.
Part I: Discovering Card Games.
Chapter 1: Card Game Basics.
Chapter 2: Solitaire.
Chapter 3: Children's Games.
Part II: Getting Rid of Cards.
Chapter 4: Rummy.
Chapter 5: Canasta.
Chapter 6: Eights.
Chapter 7: Fan Tan.
Part III: Taking Tricks.
Chapter 8: Whist.
Chapter 9: Oh Hell! and Other Exact Bidding Games.
Chapter 10: Euchre.
Chapter 11: Spades.
Chapter 12: Contract Bridge and Mini-Bridge.
Part IV: Scoring or Avoiding Points.
Chapter 13: Hearts.
Chapter 14: Pinochle.
Chapter 15: Setback.
Part V: Adding and Climbing.
Chapter 16: Cribbage.
Chapter 17: President.
Chapter 18: Blackjack.
Part VI: Playing Poker.
Chapter 19: Shuffling Through Poker Basics.
Chapter 20: Draw Poker.
Chapter 21: Stud Poker.
Chapter 22: Texas Hold 'Em.
Chapter 23: Omaha.
Part VII: The Part of Tens.
Chapter 24: Ten Ways to Improve Your Game and Have More Fun.
Chapter 25: Ten Places to Find More Information on Your Game.
Index.