Cardiac CT, PET and MR, 2nd Edition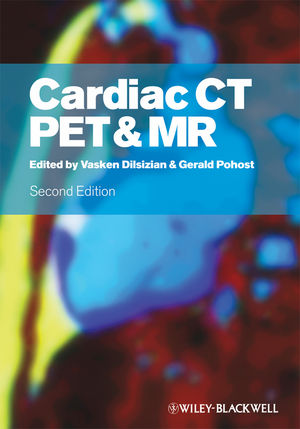 Cardiac CT, PET and MR, 2nd Edition
ISBN: 978-1-444-32389-4 August 2010 Wiley-Blackwell 384 Pages
Description
This careful revision keeps pace with developments in the field, with new chapters on PET Metabolism, CT and MRI in the Emergency Department, Image-Guided Electrophysiology Mapping and Ablation, and Identification of Vulnerable Atherosclerotic Plaque by Radionuclide and CT techniques, plus the introduction of new contributors Udo Hoffman and Stephan Achenbach.

Praised in its previous edition as a concise source of essential information, this new edition presents the most recent information in an accessible format and serves as an excellent reference source for all cardiologists, radiologists and nuclear medicine physicians.
List of Contributors.
Foreword.
Part I Instrumentation, Imaging Techniques, and Protocols.
1 Positron Emission Tomography (Stephen L. Bacharach).
2 Cardiovascular Magnetic Resonance: Basic Principles, Methods, and Techniques (Joseph Selvanayagam, Matthew Robson, Jane Francis & Stefan Neubauer).
3 Cardiac Computed Tomography (Ian S. Rogers, Quynh A. Truong, Subodh B. Joshi & Udo Hoffmann).
Part II Clinical Applications.
4 PET Assessment of Myocardial Perfusion (Thomas H. Schindler, Ines Valenta & Vasken Dilsizian).
5 Myocardial Metabolism in Health and Disease (Robert J. Gropler, Linda R. Peterson & Vasken Dilsizian).
6 PET Innervation and Receptors (Antti Saraste, Hossam Sherif & Markus Schwaiger).
7 MR Angiography: Coronaries and Great Vessels (Patricia Nguyen & Phillip Yang).
8 Cardiovascular Magnetic Resonance: Evaluation of Myocardial Function, Perfusion, and Viability (Padmini Varadarajan, Ramdas G. Pai, Krishna S. Nayak, Hee-Won Kim & Gerald M. Pohost).
9 MSCT Coronary Imaging (Koen Nieman).
10 Multislice Cardiac Tomography: Myocardial Function, Perfusion, and Viability (Raymond T. Yan, Richard T. George & Joao A.C. Lima).
11 Cardiac Computed Tomography and Magnetic Resonance for the Evaluation of Acute Chest Pain in the Emergency Department (Eric M. Thorn & Charles S. White).
Part III Concurrent Noninvasive Assessment of Coronary Anatomy, Physiology, and Myocellular Integrity.
12 PET and MRI in Cardiac Imaging (Stephan G. Nekolla & Antti Saraste).
13 PET and CT Imaging (Marcelo F. Di Carli).
14 Image-Guided ElectrophysiologyMapping and Ablation (Timm-Michael L. Dickfeld).
15 Structural and Molecular Imaging of Vulnerable Plaques (Farouc A. Jaffer & Jagat Narula).
Index.
""Praised in its previous edition as a concise source of essential information, this new edition presents the most recent information in an accessible format and serves as an excellent reference source for all cardiologists, radiologists and nuclear medicine physicians."". (Medic Exchange, 20 January 2011)