Cardiac Pacemakers Step by Step: An Illustrated Guide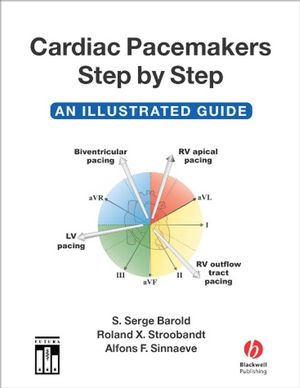 Cardiac Pacemakers Step by Step: An Illustrated Guide
ISBN: 978-1-405-14065-2 April 2008 Wiley-Blackwell 352 Pages
Description
Over the years we have heard many complaints that there is no very simple book on cardiac pacing for real beginners. We have also heard that all the books on cardiac pacing are too complicated and impossible to understand by beginners. Many have voiced the hope that one day someone would write a book in the same style as Dubin's book on basic electrocardiography which is a huge bestseller with well over a million sold in many languages. A 'Dummy' book on cardiac pacing would appeal to nurses, cardiology technicians, medical students and pacemaker companies for training their staff.
We started with the assumption that the reader would know the principles of electrocardiography as in Dubin's book but nothing about cardiac pacing. We carefully studied the Dubin book and believe that we have improved his teaching method. The book consists of numbered illustrations each illustrating a concept in the form of a diagram drawn professionally. We have been careful to make the artwork simple for easy comprehension.

Each illustration will occupy a page and have several lines of text below it. We have already completed most of these. It is essential that there are all in color, this is a unique selling point.

The 3 authors have had vast experience in the field. Dr Barold has published 10 books on cardiac pacing and wrote the section on cardiac pacing in the 4th and 5th Edition of Braunwald's book, Heat Disease."
S. Serge Barold, Roland Stroobandt and Alfons Sinnaeve

Content:



The plates depicting a concept with occupy 1 pages. Each plate consists of a diagram and a short text.

All diagrams are in color. In black and white they would lose their teaching value

There will be approx 200 plates.

There will be approx 100 electrocardiograms.

There will be a glossary, appendices and index
Table of contents
What is a Pacemaker?.
Recording Pacemaker Activity.
Fundamentals of Electricity.
Ventricular Stimulation.
Pacing Leads.
Sensing—basic Concepts.
Sensing—advanced Concepts.
Basic Pacemaker Electrocardiography.
Other Single Chamber Pacemakers.
DDD Pacemakers—basic Functions.
DDD Pacemakers—upper Rate Response.
Atrioventricular Interval.
Retrograde Ventriculoatrial Synchrony in Dual Chamber Pacemakers.
All Dual Chamber Pacemakers Function in the DDD Mode.
Types of Lower Rate Timing.
Atrial Capture.
Automatic Mode Switching.
Pacemaker Radiography.
Oversensing.
Troubleshooting.
Pacemaker Hemodynamics and Rate-adaptive Pacing.
Pacemaker Tachycardias—Part 1.
Pacemaker Tachycardias—Part 2.
Treatment of Tachycardia.
Pacemaker Interference.
Biventricular Pacing.
Pacemaker Follow-up.
Conclusion.
Text: overview of cardiac pacemakers.
Index
Reviews
"This book provides crystal clear explanations of pacing and timing intervals, programming, hysteresis, and all practical aspects of pacing. Each point is covered in one or more full page diagrams which combine ECGs with cartoons. The emphasis is only clarity, and although it starts by assuming no prior knowledge of pacing in fact all aspects end up being covered to a very high level. This is quite different from any other pacemaker manuals, and very strongly recommended. All the points covered in the 289 separate full page layouts are then summarised in 38 pages of concise text and tables."
Cardiology News, June/July 2005 (volume 8, number 5)
Comments sent to Commissioning Editor on 11/10/05 Regarding Pacemakers Step by Step:

Everyone that I have spoken to who has checked out this book has only positive things to say and all were very impressed by the book. Our library copies are usually always checked out and it is sometimes difficult to get people to return this title on time! Because of the positive feedback when employees come in to get a basic book on pacemakers this is the first title I direct them to, because they will be able to understand it, no matter what kind of science background they have, even if this science background is none.
Once again, it is a great book and we are very happy to have it in our library for our employees.
--Liberty Gooler, Associate Librarian, Library & Resource Center, St. Jude Medical, CRMD, 818-493-2152, 800-423-5611, ext. 2152, 818-362-8142 (Fax)

"… for those of us who have been involved with pacing, we sometimes overlook the obvious – after all, everyone knows 'that'. But everyone does not know 'that'. We all have to start someplace and it seems to me that if this book were reasonably priced it would be a standard item for every cath and EP lab nurse and technician, every first year cardiology fellow, most practicing cardiologists whose contact with pacing is haphazard at best and certainly, for everyone of our new sales reps or TSRs and our Field Clinical Engineers."
Paul A Levine MD St Jude Medical CRMD
What's New


The plates depicting a concept with occupy 1 pages. Each plate consists of a diagram and a short text.

All diagrams are in color. In black and white they would lose their teaching value

There will be approx 200 plates.

There will be approx 100 electrocardiograms.

There will be a glossary, appendices and index