Cardiac Pacing - A Case Approach: Cardiac Pacemakers and Implantable Defibrillators: A Workbook, Volume 1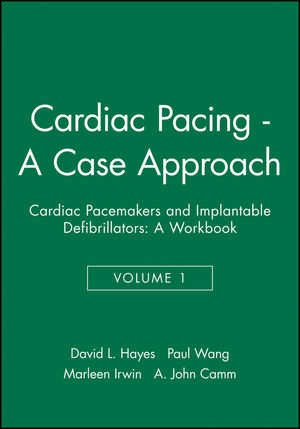 Cardiac Pacing - A Case Approach: Cardiac Pacemakers and Implantable Defibrillators: A Workbook, Volume 1
ISBN: 978-0-879-93695-2
Jan 1991, Wiley-Blackwell
112 pages
Description
There are many excellent textbooks that exist in the area of implantable devices for arrhythmia control. Few textbooks, however, provide a case study approach. Collectively, these workbooks provide an approach to problem solving an electrocardiographic interpretation for patients with permanent pacemakers and defibrillators.

Volume 1 addresses patients with permanent pacemakers
Volume 2 examines interactions between pacemakers and implantable defibrillators
Volume 3 provides case studies of transtelephonic pacemakers electrocardiography
Volume 4 provides more pacemaker and implantable defibrillator troubleshooting cases

This volume takes a case-orientated approach, providing a diverse series of problems on a broad range of pacing related topics. The cases are divided into easy, moderate and complex according to their level of difficulty, allowing the reader to gauge their progress. This workbook is suitable for physicians, nurses, technicians, technologists and industry engineers, particularly those new to the field who are keen to learn in a practical way.
Volume 1: Cardiac Pacing: A Case Approach.
Volume 2: Implantable Defibrillators: A Case Approach.
Volume 3: Transtelephonic, Electrocardiography and Troubleshooting: A Case Approach.
Volume 4: ICDs and Pacemakers
""Frequently the authors place additional teaching points after the answer section to complete the question's focus area. This volume (1) is an excellent collection of case problems with easy to follow answers that can benefit the student or seasoned cardiologist.""
Doody's Review Service
""In summary, these workbooks provide a case-oriented approach to identifying and managing both simple and more complex problems frequently encountered in patients with implantable defibrillators. These workbooks are best suited to individuals new in the fields of pacing and electrophysiology.""

Canadian Journal of Cardiology
* addresses patients with permanent pacemakers * cases are categorized by their level of difficulty allowing the reader to gauge their progress