Cardiac Pacing and ICDs, 4th Edition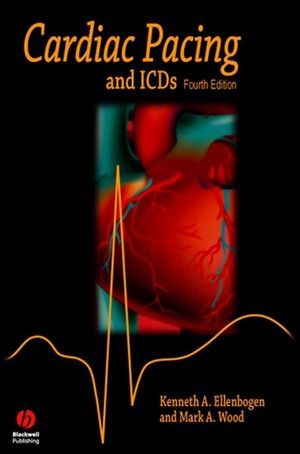 Cardiac Pacing and ICDs, 4th Edition
ISBN: 978-1-405-15007-1
Apr 2008, Wiley-Blackwell
576 pages
Description
Fully revised and updated, the fourth edition of Cardiac Pacing and ICDs continues to be an accessible and practical clinical reference for residents, fellows, surgeons, nurses, PAs, and technicians.





The chapters are organized in the sequence of the evaluation of an actual patient, making it an effective practical guide. Revised chapters and updated artwork and tables plus a new chapter on cardiac resynchronization make the new edition an invaluable clinical resource.





Features:





· New chapter on Cardiac Resynchronization Therapy


· Updated and better quality figures and tables


· Updated content based on ACC/AHA/NASPE guidelines


· Updated indications for ICD placement


· Updated information on ICD and pacemaker troubleshooting
Contents.
Contributors.
Reviewers.
Preface .
Chapter 1: Indications for Permanent and Temporary Cardiac Pacing.
Pugazhendhi Vijayaraman, Robert W. Peters, and Kenneth A. Ellenbogen.
Chapter 2: Basic Concepts of Pacing.
G. Neal Kay.
Chapter 3: Hemodynamics of Cardiac Pacing.
Richard C. Wu and Dwight W. Reynolds.
Chapter 4: Temporary Cardiac Pacing.
Mark A. Wood and Kenneth A. Ellenbogen.
Chapter 5: Techniques of Pacemaker Implantation and Removal.
Jeffrey Brinker and Mark Midei.
Chapter 6: Pacemaker Timing Cycles.
David L. Hayes and Paul A. Levine.
Chapter 7: Evaluation and Management of Pacing System Malfunctions.
Paul A. Levine.
Chapter 8: The Implantable Cardioverter Defibrillator.
Michael R. Gold.
Chapter 9: Cardiac Resynchronization Therapy.
Michael O. Sweeney.
Chapter 10: ICD Follow-up and Troubleshooting.
Henry F. Clemo and Mark A. Wood.
Chapter 11: Follow-up Assessments of the Pacemaker Patient.
Mark H. Schoenfeld and Mark L. Blitzer.
Index
"Cardiac Pacing and ICDs is a book to be passionate about. The only comparable passion would be shoes and if this book were to be a pair of shoes then they would definitely be my favourite pair...Overall this book is a superb text on pacing, with additional chapters on ICD therapy. It is essential reading for cardiac practitioners with, or hoping to develop, specialist knowledge in pacemakers." British Journal of Cardiac Pacing
An accessible and practical clinical reference for residents, fellows, surgeons, nurses, PAs, and technicians.


New chapter on Cardiac Resynchronization Therapy

Updated and better quality figures and tables

Updated content based on ACC/AHA/NASPE guidelines

Updated indications for ICD placement

Updated information on ICD and pacemaker troubleshooting