Cardiology Core Curriculum: A Problem Based Approach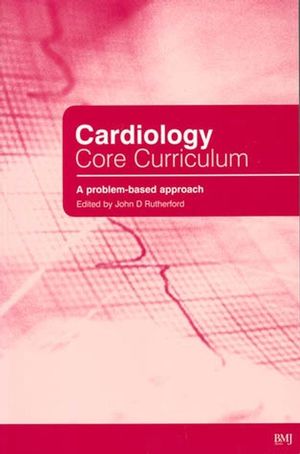 Cardiology Core Curriculum: A Problem Based Approach
ISBN: 978-0-727-91690-7 April 2003 BMJ Books 624 Pages
Description
This textbook covers all the main subspecialties in cardiology, including a large proportion of case studies that illustrate the principles of clinical practice. Self testing questions accompany each case. Authored by leading cardiologists, this is an up to date, well illustrated, core cardiological text for those preparing for the specialist examinations.

Contents: History and physical examination, ECG, CSR; non-invasive imaging and stress testing; catheterisation diagnostic and therapeutic uses; hypertension primary and secondary; atherosclerosis epidemiology, risk factors, lipoprotein abnormalities, diagnosis and treatment; acute coronary syndromes; chronic ischaemic heart disease; arrhythmias; cardiac arrest and resuscitation; heart failure and cardiac transplantation; congenital heart disease; valvular heart disease and infective endocarditis; pericardial disease, diseases of the aorta, heart tumours; pulmonary embolism and pulmonary hypertension; non-cardiac surgery in patients with heart disease; heart disease and pregnancy; cardiovascular pharmacology; arterial vascular disease
Table of contents
Cardiac history and examination.
Cardiac non-invasive imaging and stress testing.
Cardiac catheterization.
Hypertension.
Lipid disorders.
Acute coronary syndromes.
Chronic ischemic heart disease.
Arrhythmias.
Sudden cardiac death and resuscitation.
Heart failure and cardiac transplantation.
Congenital heart disease.
Valvular disease and infective endocarditis.
Pericardial disease, disease of the aorta, and heart tumours.
Pulmonary embolism and pulmonary hypertension.
Non-cardiac surgery in patients with heart disease.
Heart disease in pregnancy.
Cardiovascular pharmacology.
Arterial vascular disease
What's New
Problem based approach
Covers all major cardiological conditions
Practical, up to date and easy to read
Respected authorship