Cardiology for Veterinary Technicians and Nurses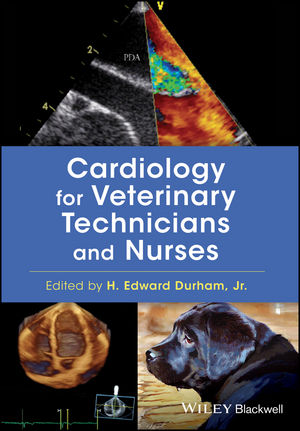 Cardiology for Veterinary Technicians and Nurses
ISBN: 978-1-119-35740-7
Jun 2017, Wiley-Blackwell
504 pages
Description
Cardiology for Veterinary Technicians and Nurses is a comprehensive resource for veterinary technicians and nurses working with cardiovascular patients in veterinary practice.
Offers a complete reference to veterinary cardiology targeted at veterinary technicians and nurses, summarizing fundamental knowledge on cardiovascular disease
Covers dogs, cats, horses, ruminants, and camelids
Provides information ranging from introductory to advanced for a thorough guide to cardiac conditions
Presents detailed procedures for common cardiac catheterization techniques, including supplies required
Includes photographs and illustrations to depict the concepts described
List of Contributors ix
Foreword xi
List of Abbreviations xv
Introduction:Why Animals have a Circulatory System 1
H. Edward Durham, Jr.
Section I Cardiac Anatomy and Physiology 5
Cardiac Anatomy 7
H. Edward Durham, Jr.
Basic Cardiac Physiology 23
June A. Boon and H. Edward Durham, Jr.
Section II Diagnostics 43
History and Physical Examination 45
H. Edward Durham, Jr.
Electrocardiography 63
Shari Hemsley
Thoracic Radiography 111
Deborah M. Fine
Echocardiography and Doppler Study 133
Michelle St John and H. Edward Durham, Jr.
Blood Pressure Measurement and Systemic Hypertension 179
H. Edward Durham, Jr.
Angiography 199
Barbara P. Brewer
Cardiac Biomarkers 225
Kristin Hohnadel
Section III Cardiac Diseases 231
Congenital Heart Diseases 233
H. Edward Durham, Jr.
Acquired Heart Diseases 277
Stacey Leach
Pericardial Effusion and Cardiac Neoplasia 301
Anne Myers
Section IV Therapies and Interventions 315
Pathophysiology of Heart Failure 317
June A. Boon and H. Edward Durham, Jr.
Drugs for Cardiac Therapy 329
Kathryn J. Atkinson
Treatment of Cardiac Disease 351
Robert J. Schutrumpf III
Interventional Therapies 367
Anna McManamey, AnneMyers, and H. Edward Durham, Jr.
Section V Large Animal Cardiology 405
Equine Cardiology 407
H. Edward Durham, Jr.
Ruminant and Camelid Cardiology 443
Mark W. Harmon
Appendix 459
Index 467