Cardiotoxicity of Non-Cardiovascular Drugs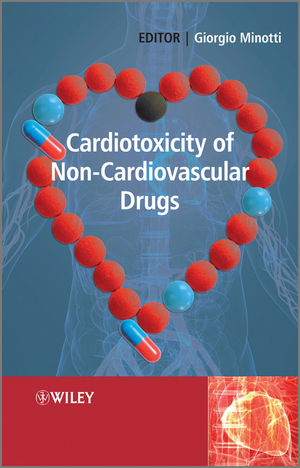 Cardiotoxicity of Non-Cardiovascular Drugs
ISBN: 978-0-470-66038-6
Mar 2010
360 pages
Description
Some drugs which are not aimed at treating heart disease have nevertheless been found to have profound effects on heart muscle. Cardiotoxicity is one of the major forms of toxicity seen in drugs and it accounts for most drug recalls and delays experienced in regulatory approvals.In recent years a number of non-cardiac blockbuster drugs such as terfenadine have been withdrawn from major markets because of cardiotoxicity concerns, while other drugs have either been withdrawn prior to marketing or required labelling changes that significantly restricted their use.

In Cardiotoxicity of Non-Cardiovascular Drugs international experts describe the molecular mechanisms and clinical read-outs of cardiac events induced by a broad variety of noncardiovascular drugs. Particular emphasis is paid to the preclinical screening of drug cardiotoxicity. Topics include:
 metabolic targets of cardiotoxicity
regulatory aspects
translating molecular mechanisms into clinical trials
structure-activity relationships in arrhythmias by antihistamines and psychoactive drugs
cardiovascular toxicity of antitumor drugs
cardiovascular toxicities of non-steroidal anti-inflammatory drugs
cardiovascular toxicities of antiretroviral therapies
Cardiotoxicity of Non-Cardiovascular Drugs is an essential guide to this important area of drug development. It will find a place on the bookshelves of researchers, regulators and students in medicinal chemistry, drug development, pharmacology, pharmacy and cardiovascular disease.
Preface.
List of Contributors.
Abbreviations. .
1. Mitochondrial Dysfunction In Cell Injury and Cardiotoxicity (Fabio Di Lisa, Martina Semenzato, Andrea Carpi, Sara Menazza, Nina Kaludercic, Roberta Menabò, Marcella Canton).
2. Cardiovascular Liabilities of Drugs: Regulatory Aspects (Claudio Arrigoni).
3. Cellular Mechanisms, Molecular Targets, and Structure-Function Relationships In Drug-Induced Arrhythmias: The Case Of Antihistamines, Psychoactive Drugs, and Antimicrobial Agents (Maria Virginia Soldovieri and Maurizio Taglialatela).
4. Cardiovascular Toxicity of Antitumor Drugs: Dimensions of the Problem in Children (Rebecca Scully, Louis Pruitt, Steven E. Lipshultz).
5. Cardiovascular Toxicity of Antitumor Drugs: Dimension of the Problem in Adult Settings (Joseph R. Carver and Chaitali J. Desai).
6. Diagnostic Aspects of Cardiovascular Toxicity of Antitumor Drugs (Michael S. Ewer, Thomas M. Suter).
7. Cardiovascular Toxicity of Antitumor Drugs: Translating Molecular Mechanisms into Clinical Facts (Pierantonio Menna, Emanuela Salvatorelli, Carlo Salsano, Luca Gianni, and Giorgio Minotti).
8. NSAID Action and the Foundations for Cardiovascular Toxicity (Anna L. Blobaum and Lawrence J. Marnett).
9. Cardiovascular toxicities of NSAIDS: Epidemiologic aspects (Antonio González-Pérez, Luis Alberto García Rodriguez).
10. Cardiovascular Toxicities of Life-Saving Drugs: Antiviral Therapy (James J. Kohler & William Lewis).
Index.