Cardiovascular Emergencies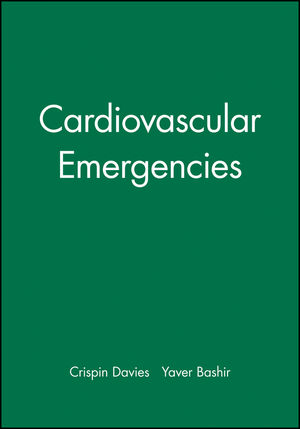 Cardiovascular Emergencies
ISBN: 978-0-727-91484-2
Jul 2001, BMJ Books
390 pages
Description
Life threatening cardiovascular conditions constitute up to fifty per cent of emergency admissions to hospital. Immediate and appropriate management is crucial. This authoritative text provides up to date guidance for cardiologists and general physicians faced with patients in a critical condition.

Based on Oxford cardiologists' wide clinical experience, the individual chapters address the practical issues of managing patients during the acute phase, combining both evidence-based and practical approaches.

The text is enhanced with schematic illustrations and real examples, boxed summaries, and tables, making the book easy to use on the wards as well as being a reference for more detailed study.
Contributors.
Preface.
1 Diagnosis of acute chest pain (DC Sprigings, Y Bashir, CH Davies).
2 Acute coronary syndromes I: Pathogenesis (CH Davies, Y Bashir).
3 Acute coronary syndromes II: myocardial infraction with ST elevation (CH Davies, Y Bashir).
4 Acute coronary syndromes III: chest pain with ST depression or a normal ECG (CH Davies, BK Shively).
5 Acute pulmonary oedema (CH Davies).
6 Cardiogenic shock (CH Davies).
7 Aortic dissection and related syndromes (CH Davies).
8 Pulmonary embolism (KM Channon, Y Bashir).
9 Acute atrial fibrillation (I Mirza, Y Bashir).
10 Narrow complex tachycardias (Y Bashir, N Lever).
11 Broad complex tachycardias (N West, Y Bashir).
12 Syncope, bradycardias and temporary cardiac pacing (J Ferguson, KM Channon, Y Bashir).
13 Cardiac arrest (CH Davies, M Hunt).
14 Practical procedures (CH Davies, J Ferguson).
Appendix.
Index.
Very few other textbooks specifically addressing emergencies in cardiovascular medicine
Uses problem related approach which reflects the way that clinical conditions present in the emergency setting
Written by specialists but for a very broad general readership
Emphasis on practical advice and pragmatic decision making