Care of People with Diabetes: A Manual of Nursing Practice, 2nd Edition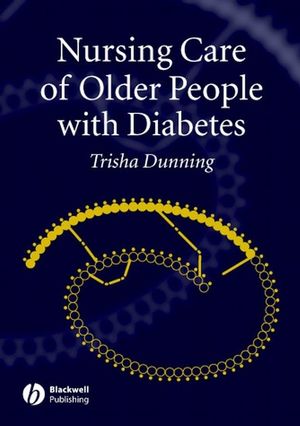 Care of People with Diabetes: A Manual of Nursing Practice, 2nd Edition
ISBN: 978-1-405-15186-3
Apr 2008, Wiley-Blackwell
320 pages
Description
Diabetes Mellitus is a chronic disease affecting a large percentage of the population world-wide. In the UK alone there are over 1.4 million people diagnosed with diabetes, a new diagnosis of type 2 diabetes is made every five minutes, and as many as a million people are suspected to have the condition without knowing it. As many as one in ten patients in hospital have diabetes and diabetes accounts for almost a tenth of NHS spending, largely due to the high costs of complications such as heart disease, blindness, kidney disease, stroke, and amputation which all require specialist nursing care.

This manual is an essential guide to the care and management of people with diabetes mellitus, aimed at nurses and healthcare professionals, and written by an experienced clinical nurse specialist with extensive knowledge of evidence-based diabetes care. This revised and updated second edition of Care of People with Diabetes serves as an essential companion to clinical practice with a particular emphasis on the acute care setting.

Detailed information is included on the underlying pathophysiology and types of diabetes, assessment and management of diabetes, formulating care plans, and patient instruction. New chapters are included on sexual health, older people, and complementary therapies and the chapter on special circumstances has been substantially revised. Important new information is also included on corticosteroids, brittle diabetes, autonomic neuropathy, teeth, gums and haemochromatosis.
1. Diagnosis and Classification of Diabetes.
2. Assessment and Nursing Diagnosis.
3. Documenting and Charting Patient Care.
4. Monitoring Diabetes Mellitus.
5. Nutritional Aspects of Caring for People with Diabetes.
6. Oral Hypoglycaemia and Lipid Lowering Agents.
7. Insulin Therapy.
8. Hypoglycaemia.
9. Stabilization of Diabetes.
10. Hyperglycaemia, Diabetic Ketoacidosis (DKA), Hyperosmolar Coma and Lactic Acidosis.
11. Cardiovascular Disease and Diabetes.
12. Management During Surgical Procedures.
13. Care During Investigative Procedures.
14. Special Situations and Unusual Conditions Related to Diabetes.
15. Diabetes and Eye Disease.
16. Diabetes and Renal Disease.
17. Diabetes and Sexual Health.
18. Diabetes in the Older Person.
19. Foot Care.
20. Diabetes in Children and Adolescents.
21. Diabetes in Pregnancy and Gestational Diabetes.
22. Psychological and Quality of Life Issues Related to Having Diabetes.
23. Diabetes Education.
24. Discharge Planning.
25. District Nursing and Domiciliary Care.
26. Complementary Therapies and Diabetes.
27. Nursing Care in the Emergency and Outpatient Departments.
Appendix.
Index.
"The information is very general and succinct, and is ideal for use in the clinical setting...This is a very readable and well-written book, with readily accessible and up-to-date information and advice
".
Inprint (on first edition)

"The book is well written and presented. It is certainly user-friendly...The manual is an excellent guide to specific nursing action needed in the care of people with diabetes. I would be happy to see a copy on every hospital ward".

Journal of Nursing Management (on first edition)

"The stated intention of the editor of this book is to provide an easy-to-use reference for practising nurses as well as a resource for students. It serves this purpose well".

Nursing Times (on first edition)

'All these factors would be enough to distinguish this book as a must for health professionals, both generalists as well as specialists in diabetes care. However the sound basis of the author's extensive practical knowledge and experience and her approach to the person as an individual whose quality of life must be considered adds a further important dimension. All in all an essential resource for hospital libraries and individual health professional's reference libraries.'

Australian Diabetes Educators Association Magazine
* revised edition of a successful guide to care of individuals with diabetes in clinical settings
* provides the evidence base for best practice and is fully referenced
* includes protocols for consistent care and improvement of patient outcomes
* addresses legal and policy implications
* each chapter include lists of key points, boxes highlighting key information, further reading, patient information and patient care sheets
*new chapters on older people, sexual health and complementary therapies