Care of the Dying and Deceased Patient : A Practical Guide for Nurses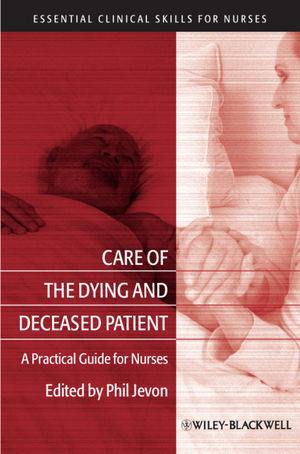 Care of the Dying and Deceased Patient : A Practical Guide for Nurses
ISBN: 978-1-444-31527-1 October 2009 Wiley-Blackwell 264 Pages
Description
This is a practical, accessible guide for nurses on the management and care of the dying and deceased patient.  It outlines the practicalities and legal issues associated with death, the principles of caring for a patient who is dying, and the principles of dealing with death, both expected and unexpected.

Care of the Dying & Deceased Patient explores all the practical issues surrounding death, including symptom control, resuscitation, organ donation,  how to break bad news, the last offices, cultural issues, post mortems and documentation issues.  It also explores both the legal and ethical issues involved- including withholding/withdrawing treatment, assisted euthanasia, patient's property, wills etc. 

SPECIAL FEATURES
A practical guide to the management of the dying and deceased patient
Of use to all nurses and nursing students
Accessible and user-friendly
Written by an expert in the field
Foreword
.
Contributors.
Chapter 1 Care of the dying patient: a guide for nurses (Dan Higgins).
Chapter 2 Symptom control at the end of life (Louisa Hunwick, Shareen Juwle and Glen Mitchell).
Chapter 3 Do not attempt resuscitation decisions (Elaine Walton and Philip Jevon).
Chapter 4 Ethical issues (Fiona Foxall).
Chapter 5 Complementary therapies in palliative care (Rachel McGuinness).
Chapter 6 Relatives witnessing resuscitation (Melanie Humphreys).
Chapter 7 Organ donation (Rachel Hodge and Liz Armstrong).
Chapter 8 Breaking bad news (Dan Higgins).
Chapter 9 Last offices (Dan Higgins).
Chapter 10 Legal issues of death (Richard Griffith).
Chapter 11 Post mortems and inquests (Cassam Tengnah).
Chapter 12 Record keeping (Philip Jevon).
Index.


A practical guide to the management of the dying patient


Of use to all nurses and nursing students


Accessible and user-friendly


Written by an expert in the field