Career Imprints: Creating Leaders Across An Industry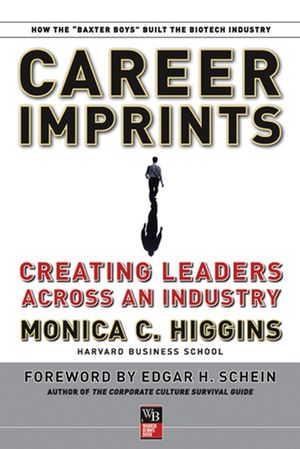 Career Imprints: Creating Leaders Across An Industry
ISBN: 978-0-787-97930-0
May 2005, Jossey-Bass
288 pages
Description
Based on her research of 800 biotechnology companies and 3,200 biotechnology executives, Harvard Business School professor Monica Higgins discovered that one firm–Baxter–was the breeding ground for today's most successful biotechnology ventures. This phenomena of one organization spawning an industry has also been seen in the high-tech (Hewlett-Packard) and semiconductor industries (Fairchild). However, until now there has been no suitable explanation of why and how these organizations were able to create the next generation of industry leaders. Career Imprints shows why Baxter was so successful in spawning senior executives and offers an understanding of what it takes for an organization to produce leaders that will dominate an industry for years to come. In this important book, Higgins shows that an organization's "career imprint"¾the result of company systems, structure, strategy, and culture¾that employees take with them throughout their careers is the key to creating great leaders. By understanding these factors, staff, human resource executives, and CEOs can analyze their own organization's career imprint and develop leaders.
Acknowledgments.

Foreword.

Preface.

Part One: Setting the Stage.

1. Introduction: Career Imprints and Senior Executive Mobility.

2. From Baxter to Biotechnology: The First Wave of Baxter Boys.

Part Two: The Career Imprinting Process.

3. Place: Understanding Breeding Grounds for Career Imprinting.

4. People: Characteristics and Susceptibility to Career Imprinting.

5. Paths: The Baxter Career Experience and Resulting Career Imprint.

6. Beyond Baxter: Career Imprints of Merck, Johnson & Johnson, and Abbott.

Part Three: The Consequences of Career Imprints.

7. The Spawning Effect: Career Imprints and Industry Evolution.

8. The Legacy of Career Imprints for Organizations.

9. The Opportunities and Constraints of Career Imprints.

10. Career Imprints: New Answers, New Questions.

Appendix A: Research Design and Methods.

Appendix B: Analyses of Baxter's Impact on IPO Success.

Appendix C: Baxter's Business and Product Timelines.

Notes.

References.

Index.
FOREWORD BY ED SCHEIN: Ed Schein, who first coined the term "corporate culture" writes in the Foreword, "This book should launch a whole new era of research on career and organizational evolution."

RESEARCH -BASED: Higgins includes research gathered from over  over 3200 companies