Career and Corporate Cool: How to Look, Dress, and Act the Part -- At Every Stage in Your Career...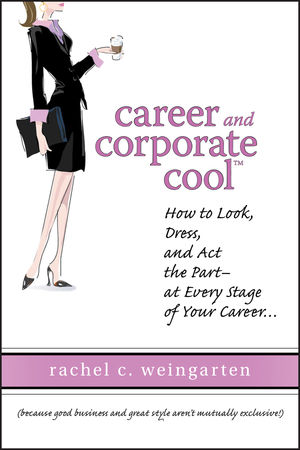 Career and Corporate Cool: How to Look, Dress, and Act the Part -- At Every Stage in Your Career...
ISBN: 978-0-470-17427-2
Oct 2007
272 pages
Description
Praise for Career and Corporate Cool
""Weingarten provides entertaining and intelligent insights as well as a valuable, and very cool,? read.""
—Gerry Byrne, Chairman and founder, The Quill Awards/The Quills Literacy Foundation and Senior Advisor, Parade Publications and Nielsen Business Media
""You no longer have to be part of the Old Boy's Club to succeed in business-you just have to know how to navigate the terrain. With a sense of humor, hard-earned wisdom, and practical advice, Weingarten?redefines the rules of business in Career and Corporate Cool.""
—Georgette Mosbacher, CEO, Borghese Cosmetics
""In Career and Corporate Cool, Weingarten, known for her unique way of blending philanthropic ideals with business needs, shares her advice and humor on?all things business-from networking, communication, and interaction to fashion, beauty, and overall style for every aspect of your career.""
—Elizabeth Woolfe, Program Director, Fashion Targets Breast Cancer/Council of Fashion Designers of America
""Reading Career and Corporate Cool was like getting sage advice from a wise and witty best friend. While it is a must-read for anyone just starting their career path, it is equally relevant for grizzled corporate veterans as well.""
—Keith Nowak, Media Relations Manager, Nokia
""Rachel's insights are funny AND informative! Prepare yourself for a fun read.""
—Susan Safier, Vice President, Product Placement, 20th Century Fox
""Career and Corporate Cool is filled with juicy insights and laugh-out-loud moments. Weingarten has cleverly captured the essence of an elusive commodity-now that is cool!""
—Jillian Kogan, Director, MTV Production Events & Concert Services
Introduction.
1. What is Career & Corporate Cool? (And where can I get some?).
2. Who Are You? (Quizzes and questions to help you to define your personal style).
3. Culture Club (How to understand your firm's unique corporate culture and adapt to it without becoming just another cog).
4. Career-O-Rama--(How to dress, act and interact whether you're at a Fortune 500 Company or a junior executive at an ad agency).
5. Attitude Adjustment- (Quick fixes for common mistakes to help you to fit in anywhere, and if all else fails fake it 'til you make it).
6. Personality Plus (The right etiquette, social rules and tools to help you up the corporate ladder).
7. Accessorize! (From your earrings to your laptop case, what your add on say about you).
8. Extra-Curricular Activities (How to dress and act while on the clock away from the office- at company).
9. Entrepreneurial Extras (Working from home doesn't mean sweats and fuzzy slippers, how to clean up for any occasion).
10. Hello Gorgeous!(How having a perfectly polished face, subtly gleaming hair and a non-offensive cloud of perfume can make you more professional).
11. He Says/She Says-(Understand and navigate the differences between male and female work styles).
12. Eat to Live (Healthy nutrition and on the go snacking tips for maximum productivity).
13. The Best Guest Or Hostess with the Mostest (Be A Great Guest Or Plan/Throw/Host A Perfect Event Without Losing Your Sanity).
14. On the Road (Protocol, packing tips and fashion advice for business travel).
15. Emergency! Don't Hide If You Eek - Instead Learn To Accentuate the Negative (Fast fixes in a hurry- how to gracefully family emergencies, the flu, maternity leave and more).
16. Take Note (Present yourself perfectly in your memos, email, IM and phone messages).
17. Let's Hear it for The Boy (Give your significant other an instant-makeover and make him date worthy for work related events- or better yet, just tell him to read this chapter).
18. Little Black Book (Some top secret resources you'll need to succeed).
19. Corporate Cool Hall of Fame (Famous CEOs, Entrepreneurs and Film Icons who have the style we covet).
20. The Twenty Three Rules Of Career And Corporate Cool (Twenty three ways that good business meets great style).
Conclusion.