Careers in 21st Century Applied Anthropology: Perspectives from Academics and Practitioners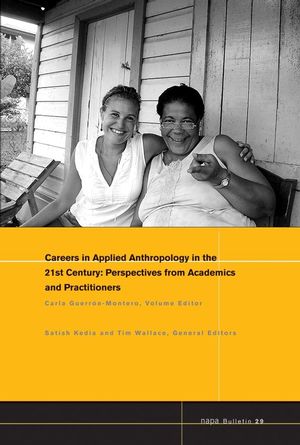 Careers in 21st Century Applied Anthropology: Perspectives from Academics and Practitioners
ISBN: 978-1-444-30692-7 April 2009 Wiley-Blackwell 160 Pages
Description
The NAPA Bulletin series is dedicated to the practical problem-solving and policy applications of anthropological knowledge and methods. NAPA Bulletins are peer reviewed, and are distributed free of charge as a benefit of NAPA membership. The NAPA Bulletin seeks to:
facilitate the sharing of information among practitioners, academics, and students
be a useful document for practitioners
contribute to the professional development of anthropologists seeking practitioner positions
support the general interests of practitioners both within and outside the academy
Part I: Introduction.
1. Introduction: Preparing Anthropologists for the 21st Century (Carla Guerrón-Montero).
2. Recent Changes and Trends in the Practice of Applied Anthropology (Satish Kedia).
Part II: Graduate School in Applied Anthropology.
3. Mastering the Art of the M.A. Program and Beyond (Terry Redding).
4. Small Fish in a Big Pond: An Applied Anthropologist in Natural Resource Management (Jennifer Gilden).
Part III: Advice from the Academy.
5. Practicing Anthropology from within the Academy: Combining Careers (Philip D. Young).
6. Moving Past Public Anthropology and Doing Collaborative Research (Luke Eric Lassiter).
7. Collaboration, Cooperation, and Working Together: Anthropologists Creating a Space for Research and Academic Partnerships (Geraldine Moreno-Black and Pissamai Homchampa).
8. Learning Applied Anthropology in Field Schools: Lessons from Bosnia and Romania (Peter W. Van Arsdale).
Part IV: Advice from Practicing Anthropologists.
9. Working for the Federal Government: Anthropology Careers (Shirley J. Fiske).
10. Applied Anthropology and Executive Leadership (Barbara Pillsbury.)
11. Creating Your Own Consulting Business (Carla N. Littlefield and Emilia González-Clements).
12. Using Anthropology Overseas (Riall W. Nolan).
13. Becoming an International Consultant (Gisele Maynard-Tucker).
Part V: Further Resources.
14. Further Resources for Careers in Applied Anthropology (Scarlett Shaffer).
15. Biosketches of Authors.


Facilitates the sharing of information among practitioners, academics, and students

Useful document for practitioners

Contributes to the professional development of anthropologists seeking practitioner positions

Supports the general interests of practitioners both within and outside the academy