Caring for Older People in Australia: Principles for Nursing Practice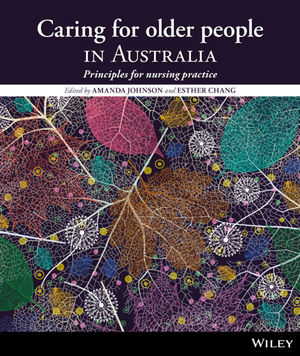 Caring for Older People in Australia: Principles for Nursing Practice
ISBN: 978-1-118-38412-1
Sep 2013
617 pages
Product not available for purchase
Description
Drawing on the multidisciplinary expertise of Australia's preeminent academics and clinicians from the aged care community, Caring for Older People in Australia presents undergraduate students with a holistic guide to care provision in a rapidly growing sector. In recognition that clinical competencies and 'issues' do not occur in isolation, the text integrates the most up-to-date multidisciplinary research and policy with the practical realities of caring for older people.
Caring for Older People in Australia adopts a person-centred, primary healthcare focus to explore the most contemporary issues in aged care, such as:
Sexuality
Culture, diversity and spirituality
Nutrition and hydration
Prevention of falls
Promoting continence
Pharmacology and complementary therapies
Attitudes and communication
Care of the older person in the emergency department
Rehabilitation, co-morbidity and complex care
Pain and the older person
Palliation
Depression
Understanding and responding to behaviours
Bereavement
Caring for Older People in Australia reflects the rich diversity of people, settings and approaches to care and provides students numerous opportunities for critical reflection throughout.
About the editors xiv
Preface xv
Acknowledgements xviii
Chapter 1: Primary healthcare and the older person 1
Chapter 2: Understanding the ageing process 27
Chapter 3: Person-centred care: culture, diversity and spirituality 69
Chapter 4: Attitudes and communication: the older person, carers and families 95
Chapter 5: Nutrition, hydration and feeding: impact on the older person 133
Chapter 6: Pharmacology and complementary therapies 171
Chapter 7: Prevention of falls 203
Chapter 8: Care of the older person in the emergency department 257
Chapter 9: Rehabilitation, co-morbidity and complex care 289
Chapter 10: Transition of settings: loss and grief 317
Chapter 11: Pain and the older person 345
Chapter 12: A palliative approach 377
Chapter 13: Promoting continence 423
Chapter 14: Depression in older people 455 
Chapter 15: Understanding and responding to behaviours 489
Chapter 16: Sexuality 523
Chapter 17: Continuous improvement in aged care 551
Chapter 18: Bereavement care 575


Glossary 599
Index 606
Regular case studies in each chapter highlight real world aged care nursing situations, with a selection of running cases to scaffold student understanding.
In-chapter critical thinking questions and end-of-chapter project activities and case studies.
Assessment tools to equip students for practicum.
'Resources and referral' links throughout to relevant government/community/private sector programs and initiatives
Video assignments exploring contemporary aged care issues aligning with textbook learning objectives