Caring for the Perioperative Patient, 2nd Edition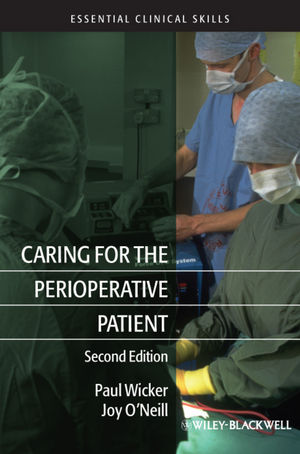 Caring for the Perioperative Patient, 2nd Edition
ISBN: 978-1-444-32329-0 March 2010 Wiley-Blackwell 440 Pages
Description
Caring for the Perioperative Patient is a practical, evidence-based and innovative book that identifies and discusses the essential core skills and knowledge required by perioperative practitioners to care for their patients.  Divided into two sections, the first explores core perioperative issues, such as pharmacology, communication, homeostasis, and equipment.  The second part of the book looks at more specific perioperative practice issues, including enhanced competence, patient preparation, and care of the patient during anaesthesia, surgery, and recovery. 

This updated new edition is skills-focused and uses examples of techniques or procedures to illustrate how skills can be applied in perioperative practice.  It is essential reading for nurses or operating department practitioners (ODPs) who perform scrub, circulating, anaesthetic and recovery roles whilst caring for perioperative patients, as well as nursing and ODP students working in perioperative care.
New edition of a successful text for perioperative practitioners and students
Emphasises holistic patient centred care
Focused on key skills and knowledge required by practitioners
Explores the evidence-base for safe and effective practice
Foreword
by Mary Moore
Associate Director, National Orthopaedic Project, Department of Health, London
Preface
Acknowledgements
Section 1 Core Issues
1 Perioperative homeostasis (Paul Wicker).
2 Managing perioperative equipment (Joy O'Neill).
3 Perioperative pharmacology (Paul Wicker and Africa Bocos).
4 Perioperative communication (Joy O'Neill).
5 Managing perioperative risks (Joy O'Neill).
Section 2 Perioperative Practice
6 A route to enhanced competence in perioperative care (Paul Wicker and Jill Ferbrache).
7 Preoperative preparation of perioperative patients (Paul Wicker).
8 Patient care during anaesthesia (Joy O'Neill).
9 Patient care during surgery (Paul Wicker and Adele Nightingale).
10 Patient care during recovery (Paul Wicker and Felicia Cox).
Index
General updates throughout in line with government guidelines as this is an area that changes rapidly (for example- preoperative drug regimes – some changes because of increased use of total IV anaesthesia)
4-colour illustrations proposed in line with inspection copy comments and reviews
Updated references

New edition of a successful text for perioperative practitioners and students
Emphasises holistic patient centred care
Focused on key skills and knowledge required by practitioners
Explores the evidence-base for safe and effective practice