Carotid Duplex Ultrasonography: Extracranial and Intracranial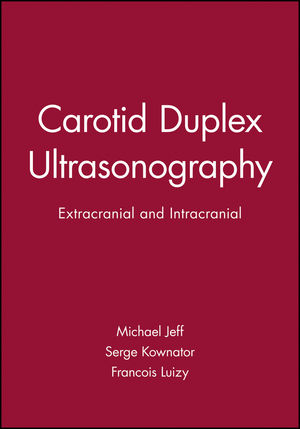 Carotid Duplex Ultrasonography: Extracranial and Intracranial
ISBN: 978-0-879-93483-5 January 2001 Wiley-Blackwell
Description
Among the varied methods of diagnosis in vascular medicine, duplex ultrasonography remains the primary modality, and continues to evolve as an accurate, reproducible, and inexpensive method to diagnose and follow patients with arterial and venous disorders. Duplex ultrasonography also remains the best diagnostic technique for extracranial carotid artery disease. Most atherosclerotic disease is limited to the origin and proximal internal carotid artery, and at this location, the vessel is commonly straight.

This CD-ROM advances the field of multimedia education, presenting every aspect of carotid duplex ultrasonography in this unique format, including anatomy and physiology, the basics of ultrasound, and the performance of carotid duplex scanning. Following this, several real-life cases are presented, and the user is instructed to answer questions, such as which probe to use, what the study reveals, etc. All aspects of duplex scanning, including non-atherosclerotic carotid disorders (fibromuscular dysplasia, spontaneous dissection, etc) and carotid stent-supported angioplasty, are reviewed in-depth.

System Requirements:

IBM Compatible
Pentium 200 Mhz
32 MB RAM
Colour display 640 x 480
8X CD-ROM

Macintosh
Power PC or G3
32 MB RAM
Colour display 640 x 480
8X CD-ROM

Quicktime 3 installer is included
Pre-Evaluation Test.
Understanding the Duplex Ultrasound Scanner.
Patient Set-Up.
Extracranial Carotid Arteries.
Subclavian Arteries.
Vertebral Arteries.
Aortic Arch and Brachiocephalic Trunk (Innominate Artery).
Intracranial Cerebral Arteries and the Circle of Willis.
Adjacent Lesions.
Post-Revascularization Duplex Ultrasonography.
References.
Post-Evaluation Test
"This CD is a perfect example of an educational tool...including the best of vascular pathology and the most sophisticated use of multimedia."
G. Rancurel, Professor of Neurology, Director of the Stroke Center, Hôpital la Pitié Salpetrière, Paris

"Gathering the information is an important step, it is however critical to know the pitfalls of the technique and of the pathology...the aim of this CD is perfectly reached."
J.M. Cormier, Professor of Vascular Surgery, Paris

"We found the section devoted to the vascular anatomy of the Circle of Willis and the description of its variations in schematic format and a useful aid in understanding the intracranial blood supply. Also, recent references have been used in the preparation of this publication, which is a big plus.
"This CD-ROM is well made and should prove useful to both novice and experienced physician and technologist sonographers. We highly recommend it."

Echocardiography