Cascading Style Sheets: The Designers EdgeTM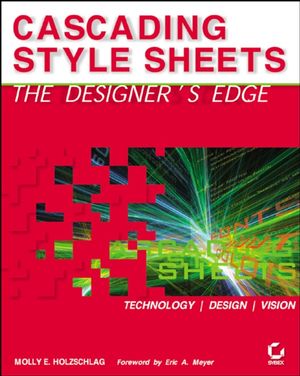 Cascading Style Sheets: The Designers EdgeTM
ISBN: 978-0-782-14184-9
Apr 2003
274 pages
Product not available for purchase
Description
CSS is finally supported by all modern web browsers, empowering Web designers to do what they've been hungering to do for years: control layout more precisely, use color more effectively, and expand typographic options beyond the frustrating limitations of the past. So where to begin? Where can you get design-focused instruction on CSS while learning the technical details?

Cascading Style Sheets: The Designer's Edge is precisely the resource you've been looking for. Written by renowned web designer Molly Holzschlag, this book begins with an in-depth look at structured markup, both XHTML and CSS. It then explains how to use CSS to achieve specific design goals involving typography, color, layout, and more. Finally, it deconstructs a series of impressive designs, showing you how the authors used CSS to maximize their efficiency and get exactly the right effect.

Key topics you'll learn about include:
* Writing valid XHTML
* Authoring effective CSS rules
* Working with classes and IDs
* Validating your CSS
* Creating great typographical designs with CSS
* Using CSS for backgrounds, borders, and color
* Creating multiple link styles
* Using absolute positioning
* Working with relative positioning
* Positioning with float
* Creating great CSS layouts
Part One: TECHNOLOGY.
One: Understanding Structured Markup.
Two: Learning CSS Theory.
Three: Writing CSS.
Part Two: DESIGN.
Four: CSS Typography.
Five: Color, Backgrounds, and Borders.
Six: Working with CSS Layouts.
Part Three: VISION.
Seven: Reconstructing a Table-Based Site.
Eight: CSS Design Gallery.
Nine: Wired News: A Visual Tour.
Appendix.
Index.
Download CSS Listings from the Book
Download a .zip file with all the css listings referenced in the book.
To uncompress the file, Windows users can use Windows built-in ZIP utilities or a 3rd party utility like WinZip or WinRAR. Macintosh users can simply double-click the downloaded file to extract using the built-in archive utility.
Download
Chapter
Page
Details
Date
Print Run
Combined Errata


Page 37

Listing 2.2, see detailed description
"font:" should be changed to
"font-family:". The same correction should be made twice in Listing 2.3 on page 38, and in step 2 at the bottom of page 39. The files 2.2.txt and 2.3.txt should also be corrected.

Page 45

Listing 2.7 Note that the only change is replacing the close parens symbol at the end -- ")" -- with the close bracket symbol -- "}".

Page 48

In the NOTE, " www.webreview.com/style/css2/charts/selectors.shtml" is no longer a valid link.
The plug was pulled on the Web Review charts since the entire section of that company folded recently.

Page 58

Margin Property -
Page 58: Last paragraph on page states that "The major concern when grouping
is the order of values. A good example of this is when working with the
margin property: you must follow the property with top, right, left, and
bottom margin values in that order."

This is incorrect. It should read:

"The major concern when grouping is the order of values. A good example of
this is when working with the margin property: you must follow the property
with top, right, bottom, and left margin values in that order. You can use the acronym TRBL or mnemonic Trouble to help remember this margin order."

Page 69

Margins
Last sentence on the page, above the note reads "This rule now sets
all the margins for the page at 20 pixels, providing a uniform margin around
the body content."

This should read:

"This rule now sets the top and left margins to 100 pixels, and the bottom
and right margins to 20 pixels."


---