Case Studies for Implementing Assessment in Student Affairs: New Directions for Student Services, Number 127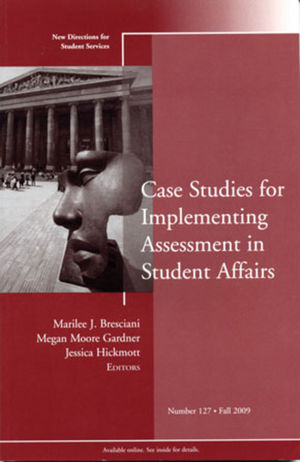 Case Studies for Implementing Assessment in Student Affairs: New Directions for Student Services, Number 127
ISBN: 978-0-470-55474-6
Oct 2009, Jossey-Bass
116 pages
Description
Thirteen case studies of successful assessment implementation in a wide range of institutes -- community colleges, private four-year liberal arts colleges, and public colleges and universities of various sizes and missions -- are all in this one volume.

Assessment is not difficult to talk about and conceptualize, but in the real world of classrooms, deadlines, students, faculty, departments, administrators, and accountability the practice can appear a mare's nest of clashing interests and perceptions. Chapters in this volume untangle that nest as the editors review assessment at:
Alverno College
Colorado State University
Frederick Community College
Isothermal Community College
John Carroll University
Northern Arizona University
North Carolina State University
Oregon State University
Paradise Valley Community College
Pennsylvania State University
California State University, Sacramento
Texas A&M University
Widener University
From student involvement and software development to the use of assessment data in strategic planning and the broad institutionalization of a pilot program, there is something here for everyone responsible for assessment in higher education.
This is the 127th volume of the Jossey-Bass quarterly report series New Directions for Student Services. An indispensable resource for vice presidents of student affairs, deans of students, student counselors, and other student services professionals, New Directions for Student Services offers guidelines and programs for aiding students in their total development: emotional, social, physical, and intellectual.
Edited by Marilee J. Bresciani, Megan Moore Gardner and Jessica Hickmott, Case studies for implementing assessment in student affairs, has collected information in a standardized format from thirteen institutions of higher education from across the United States. The key word in understanding the applications of this book is "implementing" assessment. As a collection of case studies, this book focuses on looking at the process of implementing assessment, not sharing the findings from the assessment process. Therefore, this book is a good resource for administrators who are in decision-making roles and wish to develop assessment programs and strategies related to student development at their institution. As the Editors point out, it is not a "how-to" guide, but rather, is "intended to promote reflection about what constitutes good practice in implementing assessment within students affairs/services at your institution." (p. 4).
—From NACADA Journal, Review by: Dawn Fettig and Lily Board, Academic Advising Center and the Department of Psychology and Neuroscience, University of Colorado, Boulder