Casebook I: Faculty Employment Policies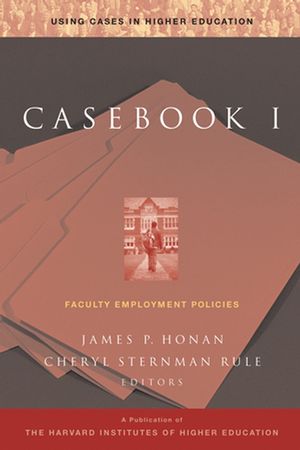 Casebook I: Faculty Employment Policies
ISBN: 978-0-787-95392-8 April 2002 Jossey-Bass 176 Pages
Description
A Publication of the Harvard Institutes for Higher Education

Casebook I: Faculty Employment Policies presents six cases thatwere developed by the Project on Faculty Appointments at theHarvard Graduate School of Education and designed to be used in avariety of instructional settings in order to explore and analyzeefforts to bring about institutional change. Each case studyhighlights a particular challenge regarding faculty employment andillustrates these challenges using situations from actualinstitutions of higher education. The cases provide a wealth ofbackground information and are filled with real-life details. Inaddition, the cases are comprehensive in scope and reflect thecomplexity of administrative decision making as experienced byacademic leaders.
Cannot be combined with any other offers.
Original Price:$60.00
Purchased together:$45.00
save $15.00
Table of contents
Preface.

1. Blessed Trinity College: Modifying FacultyEvaluation andContracts (William T. Mallon).

2. Georgia State University: Tackling Salary Inequity,Post-TenureReview, and Part-Time Employment (Cheryl Sternman Rule).

3. Kansas State University: Evaluating andAddressing Chronic LowAchievement (Holly Madsen).

4. Olivet College: Aligning Faculty EmploymentPolicies with anEvolving Mission (William T. Mallon).

5. University of Central Arkansas:Transformative Leadership,PremiumContracts, and a New Identity (Cheryl Sternman Rule).

6. University of Minnesota: The Politicsof Tenure Reform (Cathy A.Trower).

Selected Bibliography on the Academic Professionand OrganizationalChange.

Index.