Cases in International Finance, Case Studies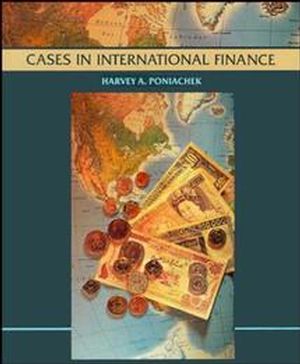 Cases in International Finance, Case Studies
ISBN: 978-0-471-53678-9
Feb 1993
656 pages
Description
This new addition to the Wiley Series in Finance is edited by a practitioner and teacher of the topic. It includes 35 cases on various aspects of international finance.
Partial table of contents:

FINANCIAL MARKETS AND FINANCIAL TRANSACTIONS.

Atlantic Financial Services, Ltd. (H. Poniachek).

Societe Montage (M. Dowling).

Metro Corporation, Inc. (S. Mangiero).

CURRENCY EXPOSURE, PRICE EXPOSURE, AND HEDGING.

The International Chemical Corporation, Inc. (H. Poniachek).

ABC Airlines (V. Bansal, et al.).

CORPORATE FUNDING AND CAPITAL STRUCTURE.

Hydro-Quebec (G. Stanley & C. Deshayes).

Guinness Peat Aviation (F. Bradley).

INTERNATIONAL CASH AND WORKING CAPITAL MANAGEMENT.

World Tours, Inc. (J. Marshall, et al.).

INTERNATIONAL PORTFOLIO INVESTMENT.

Templeton Growth Fund, Inc. (H. Poniachek).

INTERNATIONAL CAPITAL BUDGETING: DIRECT FOREIGN INVESTMENT.

IBM and Thailand (T. Pugel & J. Lee).

The FMC Corporation (H. Poniachek).

INTERNATIONAL CORPORATE TAXATION.

Irving Oil Versus the Queen (A. Rugman & A. Verbeke).

Mobil Corporation (H. Poniachek).

ENVIRONMENTAL ISSUES AND ANALYSIS.

The EC-1992 Program (H. Poniachek).

The Chip War (R. Moxon).
Introduces students first hand to the reality of globalized financial markets and the importance of penetrating the international marketplace.