Cases in International Organizational Behavior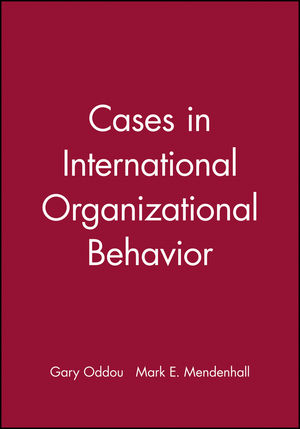 Cases in International Organizational Behavior
ISBN: 978-1-557-86735-3
Jan 1991, Wiley-Blackwell
248 pages
Description
I>Cases in International Organizational Behavior is an ideal supplement to organizational behavior and principles of management courses.
List of Exhibits.
List of Contributors.
Preface.
1. Rough Times At Nomura: Allen Bird, Ron Dalbell, Richard Madigan, Jim Noble, and Prema Venkat.
2. Chiba International, Inc: Nina Hatvany and Vladimir Pucik.
3. Euro Disneyland: Stewart Black, Hal B. Gregersen and Sonali Krishna.
4. Computex Corporation: Martin Hilb.
5. Ellen Morre in Bahrain: Gail Ellement, Martha Maznevski, and Henry W. Lane.
6. TDK de Mexico: Manab Thakur.
7. IKEA: P. Grol, C. Schoch and CPA.
8. Olivia Francis: Mark Mendenhall.
9. How Much Sleaze is too Much?: Asbjorn Olsand.
10. Chicago Medical Supplies Corporation: Explaining Sales in India: Lynne H. Rosansky.
11. Colgate Palmolive in Post-Apartheid South Africa: David T. Bealy.
12. Leadership of TQM in Autocratic Settings: Asbjorn Olsand.
13. Chang Koh Metal Ptd. Ltd, in China: Thomas Begley.
14. Rus Wane Equipment: Joint Venture in Russia (A) and (B) and Note on Russia's History and Recent Business Environment: Stanislaav V. Shekshnia and Sheila M. Puffer.
15. The Donor Services Department: Joyce Osland.
16. Nissan Italiz, SPA: Ayako Asakura and Susan Schneider.
17. Creating a Learning Organization Through HRM: A German-Czeck Joint Venture (A): Dianne J. Cyr and Susan C. Schneider.
18. Technogrid Group and A/O Navicon: J. Stewart Black and Marat Shinkarev.
* Diverse collection representative of issues arising in diverse countries and cultures such as: Russia, Japan, French-speaking Africa, Republic of Czech, the People's Republic of China, Central America, France, India, Bahrain, Sweden, South Africa, Mexico, Italy, Germany, and the United States.
* Orientation toward decision making.
* Cases are multi-functional in nature.
* Instructor's Manual including case teaching notes available on disk.