Cases in Strategic Management: Total Quality and Global Competition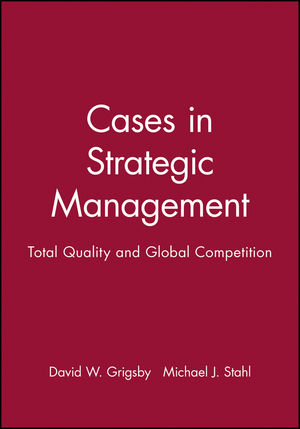 Cases in Strategic Management: Total Quality and Global Competition
ISBN: 978-1-557-86651-6
Aug 1997
468 pages
Description
Cases in Strategic Management is designed to provide students with the best means for developing their decision-making skills. It contains 25 comprehensive, up-to-date cases featuring a wide range of organizations that are undergoing, or have undergone, strategic change. All the cases feature actual organizations, ranging in size from small businesses to Fortune "Global 500" industry giants. The emphasis of this casebook is on strategic decisions, particularly those involving quality issues and global competition. It may be used with the companion text, Strategic Management by Michael J. Stahl and David W. Grigsby, or with other texts or books of readings.
Preface.
Introduction: Preparing and Presenting Effective Case Analyses.
1. Harley-Davidson, Inc. (Sexton Adams and Adelaide Griffin).
2. The Swatch in 1993 (Arieh A. Ullman).
3. Hoechst-Roussel Pharmaceuticals, Inc.: RU 486 (Jan Willem Boi and David Rosenthal).
4. The Rise and Fall of Yugo America, Inc. (Carolyn Silliman and Jeffrey S. Harrison).
5. GM Allison Japan Ltd (Richard T. Dailey).
6. Kenhar Products, Inc. (Kenneth F. Harling).
7. Calox machinery Corporation (Lester A. Neidell).
8. American Airlines International Strategy (Steve Bogner and Lester A. Neidell).
9. Korean Air: Challenges and Opportunities in the Growth (Chung Young-Chul).
10. The Metamorphosis of Whirlpool Corporation (Arieh A. Ullman).
11. Cosmetic and Activism: Anita Roddick and The Body Shop (David W. Grigsby, Alison M. Flynn, and Tanya Craig).
12. IKEA (Canada) Ltd (Paul W. Beamish and Peter Killing).
13. Toys 'R' Us, 1993 (Caron H. St John).
14. Wal-Mart, 1992 (Walter E. Greene).
15. Cadbury Schweppes plc (Franz Lohrke, James Combs, and Gary J. Castrogiovanni).
16. Kentucky Fried Chicken in China (Allen J. Morrison and Paul Beamish).
17. Labatt Breweries of Europe (with industry note: Italy and Its Beer Industry) (Arthur Sharplin).
18. Dibrell Brothers, Inc. (David W. Grigsby and Lester A. Hudson).
19. Liz Claiborne, Inc., 1994 (David W. Grisby, Linda O. Smith and Jane Crews).
20. Nike, Inc. (David W. Grisby, Susan Gaertner, and Karen Roach).
21. Lee Jing Textile Company Ltd (Sue Greenfield and Shun-Ching Horng).
22. Amtrak: Is This Any way to Run a Railroad (David W. Grigsby, Steven Horshbarger, and Jeffrey West).
23. UNICRESA and the Credit Card Industry in Portugal (David W. Grigsby and Vitor F. C. Gonçalves).
24. Transvit of Novgorod, Russia (Joseph Wolfe).
Index
* Cases contain a strong international focus.
* Comprehensive teaching notes for each case are provided in the Instructor's Manual.
* All the cases have been extensively classroom-tested and include a wealth of industry data to provide a realistic appraisal of situations.