Cases to Accompany Contemporary Strategy Analysis, 7th Edition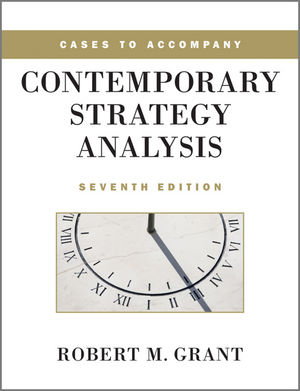 Cases to Accompany Contemporary Strategy Analysis, 7th Edition
ISBN: 978-E-UDT-E0111-6
Jul 2011
430 pages
Description
This popular casebook is now available in a more compact and updated edition. In response to requests from instructors and students for cases that require less reading time, all the cases are shorter than those in previous editions. Written by Rob Grant to accompany his text, Contemporary Strategy Analysis 7th edition, each case is designed to enable students to apply particular concepts and techniques of strategy analysis.

New cases include:
Manchester United: Preparing for Life without Ferguson
Starbucks
Easyjet vs. Ryanair
DVD Wars Google
Further cases, including the US Airline Industry, Ford and the World Automobile Industry, Richard Branson and the Virgin group of Companies, Wal-Mart Stores Inc, Harley-Davidson and General Electric & Jeff Immelt have been updated to 2009.
These contemporary cases allow students unparalleled insight into determinants of competition; the basis of competitive advantage; the challenges of developing new organizational capabilities; the design of strategies for exploiting innovation; and the opportunities and pitfalls of internationalization.
Used alongside the Contemporary Strategy Analysis text, or as a standalone resource, the cases allow today's students and executives to apply key strategy concepts and frameworks to top-level decision making at companies that face critical strategic challenges.
Full teachings notes to the cases will be available upon publication at the companion website www.contemporarystrategyanalysis.com
Preface xi
Acknowledgments xiii
1 Madonna 1
2 Starbucks in 2009: The Coffee Goes Cold 9
3 The U.S. Airline Industry in 2009 29
4 Ford and the World Automobile Industry in 2009 46
5 Wal-Mart Stores Inc., 2009 63
6 Manchester United: Preparing for Life without Ferguson 84
7 Eastman Kodak: Meeting the Digital Challenge 103
8 Procter & Gamble's Organization 2005 Project 125
9 AirAsia: The World's Lowest Cost Airline 137
10 Harley-Davidson Inc., July 2009 148
11 Raisio Group and the Benecol Launch 167
12 Rivalry in Video Games 191
13 DVD War of 2005–8: Blu-ray versus HD-DVD 204
14 New York Times 210
15 Eni SpA: Building an International Energy Major 220
16 American Apparel: Vertically Integrated in Downtown L.A. 249
17 Outback Steakhouse: Going International 264
18 Euro Disney: From Dream to Nightmare 272
19 Vodafone: Rethinking the International Strategy 299
20 Richard Branson and the Virgin Group of Companies in 2007 318
21 Google Inc.: Running Amuck? 338
22 Bank of America's Acquisition of Merrill Lynch 360
23 Jeff Immelt and the Reinventing of General Electric, 2009 381
24 W. L. Gore & Associates: Who's In Charge Here? 410