Cash Flow Strategies: Innovation in Nonprofit Financial Management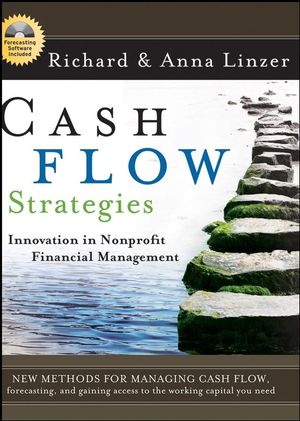 Cash Flow Strategies: Innovation in Nonprofit Financial Management
ISBN: 978-0-470-45439-8 December 2008 Jossey-Bass 272 Pages
Description
Cash Flow Strategies offers nonprofit organizations an innovative approach to financial management. In this companion to The Cash Flow Solution, the authors, Richard and Anna Linzer, reveal their approach—which emphasizes the use of cash flow concepts that enable an organization to have the working capital it needs. The book is filled with illustrative examples and includes the tools and templates needed to make these concepts immediately applicable to any institution.

Note: CD-ROM/DVD and other supplementary materials are not included as part of eBook file.
Figures and Exhibits.
Acknowledgments.
The Authors.
Introduction.i
PART ONE: COMPREHENDING AND USING FINANCIAL INFORMATION.
1 The Case for Cash Flow Thinking.
2 Beginning with Budgets—Conventional and Cash Flow.
3 How Footnotes Make the Cash Flow Budget Even More Useful.
4 Forecasting in a Fraction of Time.
5 Monitoring: A Key Element in Developing Financial Strategies.
6 Cash Flow Analysis as a Strategic Tool.
7 Cash Flow Analysis from the Funding Community's Perspective.
PART TWO: ESTABLISHING FINANCIAL SECURITY.
8 Cash Flow Strategies in Today's Environment.
9 Cash Flow Opens the Door to a New Resource.
10 Banks, Creditholders, and Cash Flow.
11 Using Credit to Manage Fluctuating Cash Flow.
12 Using Credit for Dealing with Deficits.
13 Windfalls and Other Surpluses.
14 Using Credit for Venture.
15 Owning Versus Leasing: Real Estate Strategies.
16 Developing Effective Strategy from Cash Flow Tools and Principles.
PART THREE: FINANCIAL FUTURES IN THE CURRENT WORLD OF PHILANTHROPY.
17 Earned Revenue and Discounts.
18 Cash Flow Strategies and Philanthropy Today.
19 Cash Flow Strategies and Philanthropy Tomorrow.
Notes.
Additional Reading.
Index.
The unique cash flow forecaster walks readers through the process of planning their finances the cash flow way.  And the Real Estate Forecaster helps readers decide whether to buy property. 
Nonprofits always need money and think that the only way to get it is by fundraising.  This book shows how a cash flow focus and use of credit can free up much needed cash.