Cash in the City: Affording Manolos, Martinis, and Manicures on a Working Girl's Salary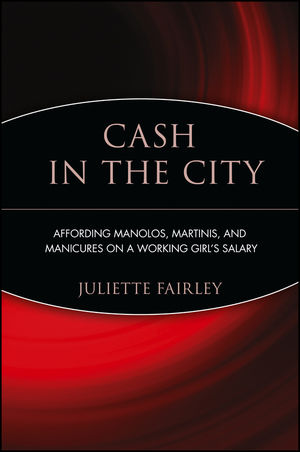 Cash in the City: Affording Manolos, Martinis, and Manicures on a Working Girl's Salary
ISBN: 978-0-471-26813-0
May 2002
240 pages
Product not available for purchase
Description
A Girl's Guide to Managing the Money You Make While Living the Life You Want

"Cash in the City is destined to become the urban girl's ultimate guide to a glamorous lifestyle . . . on a shoestring salary. It's overflowing with sage advice for living well, looking good, and having fun. I also found a very powerful and upbeat message for young women everywhere-You can create whatever life you desire . . . if you know how to do it right. Juliette Fairley shows the reader precisely, and with great flair, how to do just that."
-Barbara Stanny, author of Prince Charming Isn't Coming: How Women Get Smart About Money

Looking and feeling good is expensive-especially in America's big cities. From New York City to Los Angeles, single, young, working women in big cities are finding it increasingly difficult to live up to the standards set in TV and movies. No longer do you have to sacrifice a night on the town in order to afford those shoes you must have. By combining financial advice with real-life issues, Cash in the City shows you how to have it all and do it all without breaking the bank. In this first-of-its-kind book, you'll learn how to live the glamorous life, get weekly pedicures, and pay your bills on time!

Cash in the City will help you overcome the obstacles that every hip young woman from San Francisco to Atlanta, Chicago to Boston faces. You'll quickly learn how to avoid money missteps and keep your finances in order while you decorate your apartment, keep yourself looking good, and negotiate for a raise. Dig in your high heels, crack open this book, and find out how to live life to the fullest, even on a budget. You can be an "It" girl and financially savvy all at the same time.
Foreword.

Acknowledgments.

1. Introduction: The Single, UrbanWoman Landscape.

2. Money Missteps to Avoid.

3. Stretching Your Dollars.

4. Your Home or Your Heels.

5. Buying a Home.

6. Tools of the Beauty Trade.

7. Movin On Up.

8. Big Bucks for Businesswomen.

9. Money, Men, and Love.

10. Plan B for Backup Money.

11. Plastic Can Be Drastic.

12. Computer Cash.

13. Borrowing Against Tomorrow for Today.

14. Ladies Who Lunch Without Loot.

15. Girlfriend: Get in the Game! UsingInvestment Clubs to Create Cash.

Appendix.

Index.
How do those beautiful women in HBO's Sex and the City afford the wine, the clubs, the shoes? Well, Juliette Fairley, author of Cash in the City: Affording Manolos, Martinis, and Manicures on a Working Girl's Salary can tell you how. In this funny and surprisingly practical book, Fairley lays out the financial rules for 20 and 30-something women of the city. Far from focusing on the martini side of her title, Farley details the pitfalls of debt, erases some common money myths and just plain brings girls of a certain age back to their senses about their love affair with the almighty dollar. ( BookPage, April 2002)

Did you ever wish that you, too, could live the lifestyle popularized by the chic, chic single gals on Sex and the City?

Cash in the City: Affording Manolos, Martinis, and Manicures on a Working Girl's Salary by Juliette Fairley may help you achieve your inner fabulousness while not separating you from too much of your hard-earned money.

Many of the tips are reasonably doable. Among them:
* Pay down your debt, and don't take on any more.
* Start saving, the earlier the better.
* Take advantage of your company's 401(k).
There's always an eager audience for shopping advice, and Fairley is ready: Always buy on sale, invest in a classic wardrobe, hit the outlets (addresses and descriptions for discount shopping centers in different cities are included in the ''Resources'' section), buy cosmetics at the drugstore instead of the department store. And decorate your overpriced, undersized urban dwelling with fun accessories (two words: throw pillows).

Her advice on the subject of waiting for Prince Charming to whisk you off and solve your financial woes? Don't. It's your financial life; you're responsible for tending to its health.

The over-30 crowd may find some of the suggestions impractical. For instance: How many older women do you know who are willing to live with a roommate? Or buy clothes sight unseen off eBay? Or allow a beauty student to style and color her hair, regardless of the savings?

Census 2000 reveals that there are about 12 million women who fall under the category of ''female householder, no spouse present,'' which translates to about 12% of all households. For these women, the most useful advice of all is to educate yourself about, and take charge of, your finances. That tip is ageless. (USA Today, May 13, 2002)