Cashing in on Pre-foreclosures and Short Sales: A Real Estate Investor's Guide to Making a Fortune Even in a Down Market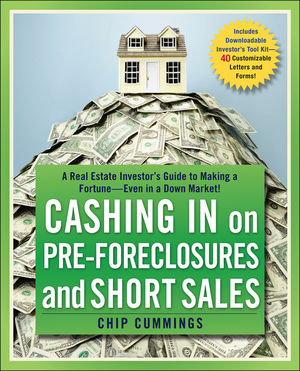 Cashing in on Pre-foreclosures and Short Sales: A Real Estate Investor's Guide to Making a Fortune Even in a Down Market
ISBN: 978-0-470-41981-6 February 2009 324 Pages
Description
Cashing in on Pre-foreclosures and Short Sales shows investors exactly how to take advantage of what many are calling the best upcoming investment real estate market we have experienced in decades! Chip distinguishes the difference between good deals and bad deals, reveals just how easy it is to find, evaluate, and obtain foreclosure properties, tells how to negotiate a profitable transaction, and unveils the power of using short sales and other strategies to create a win-win situation for the investor, the seller, and the bank. Even first-time buyers looking to score a bargain on purchasing their own home will be armed with all the tools they need to confidently evaluate and pursue a profitable deal - and save thousands in the process. Cashing In on Pre-foreclosures and Short Sales incorporates quotes and advice from top industry professionals, as well as a healthy appendix packed with state and national foreclosure guidelines, including valuable contacts and websites, sample forms, checklists, and all the necessary tools you need to find, evaluate, secure and profit from foreclosure properties.
Table of contents
Downloadable Letters, Forms, and Checklists.
About the Author.
Foreword (Gary W. Eldred, PhD).
Acknowledgments.
Introduction.
Important Disclosure Notice.
Part I: Where to Start.
Chapter 1: A Crash Course in Pre-foreclosures and Short Sales.
Chapter 2: Why Most Foreclosures Strategies Don't Work.
Chapter 3: Down Markets: The Easiest Time to Capitalize and Make Money.
Chapter 4: Everything You Need to Know about the Foreclosure Process.
Chapter 5: Everything You Need to Know about Foreclosure Properties.
Chapter 6: Navigating Sate Foreclosure Laws and Regulations.
Chapter 7: How to Avoid Foreclosure Fraud Scams.
Chapter 8: Financing Solutions for Foreclosure Properties.
Chapter 9: Getting Serious bout Being a Foreclosure Investor.
Chapter 10: Build Your Foreclosure Dream Team.
Part II: Finding and Investing in Foreclosures.
Chapter 11: The 17-Step Process.
Chapter 12: Locating the Right Pre-foreclosure Properties.
Chapter 13: How to Contact and Interact with Homeowners.
Chapter 14: Verifying Critical Property Information.
Chapter 15: Doing Your Homework.
Chapter 16: How to Conduct a Complete Property Inspection.
Chapter 17: Accurately Estimating the Current Market Value.
Chapter 18: Analyzing Your Costs and Profits.
Chapter 19: Negotiating with Property Owners.
Chapter 20: Negotiating with Lenders and Lienholders.
Chapter 21: Negotiating with Attorneys and Trustees.
Chapter 22: Negotiating and Securing Short Sale Transactions.
Chapter 23: Nailing Down the Purchase Agreement.
Chapter 24: Protect Your New Assets, Immediately.
Chapter 25: Closing the Deal.
Part III: Cashing Out!
Chapter 26: Flipping Out-Quick Profits through Wholesaling.
Chapter 27: Fixing Up Your New Investment.
Chapter 28: Renting Your New Property.
Chapter 29: Staging, Marketing, and Selling Properties for Maximum Profit.
10 Amateur Mistakes That Will Cost You Thousands.
State-by-State Foreclosure Guidelines.
101 Foreclosure and Investor Resources.
Glossary.
Index.
Free Bonus.