Cast Iron Cooking For Dummies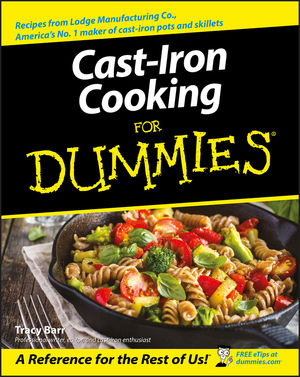 Cast Iron Cooking For Dummies
ISBN: 978-1-118-05318-8 April 2011 360 Pages
Description
In some cooking circles, cast iron gets a bad rep – people think it's old-fashioned, heavy, and hard to take care of. And really, how often do folks nowadays need to hitch up a mule and wagon and leave civilization and Teflon-coated sauté pans behind?

True, cast iron is old; it's been around since the Middle Ages. And it is heavy. No one can dispute that even a small, cast-iron pot has a heft to it that no other cookware has. Nevertheless, cast-iron cookware has a place in today's kitchens, and that doesn't mean simply hanging on the wall for decoration. Cast iron has much to offer modern-day cooks; it's easy to use, easy to care for, economical, versatile, and durable, and let's face it, it has a nostalgic appeal that no other cookware has. But more compelling than all those reasons is that it's a great cookware that makes great food. In fact, most cast-iron cooks will tell you that food cooked in cast iron tastes better than food cooked in anything else!

Cast-Iron Cooking For Dummies is for those cooks who may want to inject a little adventure and variety into their cooking. If you've never even thought of using cast-iron cookware, or you have a few cast-iron pots lying around, you'll discover all you need to know about making great food using cast iron. Here just a sampling of what you'll find in Cast-Iron Cooking For Dummies:
Selecting the right cast-iron cookware for you
Seasoning a new cast-iron pan
Caring for your cast-iron cookware
Discovering techniques to enhance your cast-iron cooking
Enjoying cast-iron cooking in the Great Outdoors
Tons of delicious recipes, from main and side dishes to desserts and international dishes
Top Ten lists on ways to make your cast-iron cookware last longer, the best dishes suited for cast iron, and tips for achieving success in cast-iron cooking
So, whether you're a cooking novice or an experienced chef, you can find plenty of enjoyment from cooking with cast iron – and Cast-Iron Cooking For Dummies can show you the way.
Introduction.
Part I: Coming Around to Cast-Iron Cooking.
Chapter 1: Welcome to Cast-Iron Cooking.
Chapter 2: Selecting Cast-Iron Cookware.
Chapter 3: This Little Pan of Mine, I'm Gonna Make It Shine: Seasoning Cast Iron.
Chapter 4: Caring for Cast Iron.
Chapter 5: Cast-Iron Cooking Techniques.
Part II: Main-Dish Cast-Iron Recipes.
Chapter 6: It's Meat for Dinner Tonight.
Chapter 7: Tastes Like Chicken (and Turkey).
Chapter 8: Fish, Shellfish, and One Amphibian.
Chapter 9: One-Dish Meals.
Part III: Cast-Iron Sides and Sweet Endings.
Chapter 10: Vegetables Even Your Kids Will Love.
Chapter 11: Cornbread and Biscuits.
Chapter 12: Pancakes, Muffins, and More.
Chapter 13: Delectable Desserts.
Part IV: Cast-Iron Cooking for the Great Outdoors — and Beyond.
Chapter 14: Cooking Around the Campfire.
Chapter 15: Anyone Game?
Chapter 16: Going Global with Recipes from Around the World.
Part V: The Part of Tens.
Chapter 17: Ten Ways to Make Your Cast Iron Last a Lifetime (or Longer).
Chapter 18: Ten Dishes Best Suited to Cast Iron.
Chapter 19: Ten Tips for Surefire Success.
Appendix: Metric Conversion Guide.
Index.