Casting for Big Ideas: A New Manifesto for Agency Managers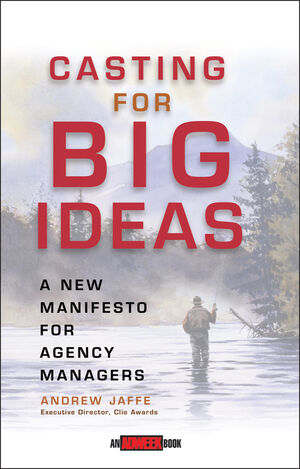 Casting for Big Ideas: A New Manifesto for Agency Managers
ISBN: 978-0-471-48091-4 September 2003 256 Pages
Download Product Flyer
Download Product Flyer
Download Product Flyer is to download PDF in new tab. This is a dummy description. Download Product Flyer is to download PDF in new tab. This is a dummy description. Download Product Flyer is to download PDF in new tab. This is a dummy description. Download Product Flyer is to download PDF in new tab. This is a dummy description.
Description
In Casting for Big Ideas, Andrew Jaffe, industry veteran and Director of the Clio Awards, details important lessons on the management and growth of advertising agencies. He shows how the forty-year-old agency business model is breaking down because the work is becoming marginalized, as clients cut back ad budgets and hire outside marketing services and strategy firms. If agencies are to survive, Jaffe says, they must become idea-focused again and, instead of just making ads, master the art of devising the kind of non-advertising-type promotions that more quickly move a brand into the culture. Based on his long experience in the advertising industry, Jaffe offers practical advice and important lessons for agency heads who want their businesses to stand the test of time. This one-of-a-kind resource covers a subject often ignored-the business side of running an ad agency.
Andrew Jaffe (New Canaan, CT) is the founding Publishing Director of Wiley's Adweek and Brandweek books imprints. He is also the Executive Director of the Clio Awards, one of the largest and most famous advertising awards programs in the world, with over 18,000 pieces submitted from agencies and production facilities in fifty-nine countries.
Table of contents
Foreword by Neil French, Worldwide Creative Director, Ogilvy & Mather Advertising.
Introduction: The Call for a New, Smarter Agency Architecture.
PART 1: Agency Architecture.
CHAPTER 1: Agency Architecture: Getting It Right from the Beginning.
CHAPTER 2: The Pitch: Matching the Hatch and Deciding What Would Make the Client Bite Down on Your Lure.
CHAPTER 3: Creative Department: How Long Can It Survive as Idea Central?
CHAPTER 4: Media Department: Can It Replace Creative as the Primary Source for Brand-Building Ideas?
CHAPTER 5: The Internet and the Agency.
CHAPTER 6: Prioritizing Strategic Planning.
PART 2: Management Lessons.
CHAPTER 7: Growing Your Agency.
CHAPTER 8: Smart Ownership Principles.
CHAPTER 9: Integrating and Refocusing the Agency Network.
CHAPTER 10: The Future.
APPENDIX A: Advertising's Invisible Values.
APPENDIX B: A Big Future for Big ideas.
APPENDIX C: The IDEO Difference.
Notes.
Acknowledgments.
Index.
Reviews
"…This is a very readable overview for those wanting a broader appreciation of the business reality…" (Marketing, 13 November 2003)
Features
Students will have access to interviews with leaders in the advertising industry. Because of Jaffe's range of experiences in the advertising world, he has a an impressive and extensive network which will inform students reading this book, including: Bob Schmetterer, CEO of Euro RSCG; Shelly Lazarus, chair of Ogilvy & Mather; Jean-Marie Dru, chairman and CEO of TBWA Worldwide; and Roy Spence, chairman and founder of GSDM.
There is virtually no competition on the topic of agency building and management, though there is a wide market for it. The topics covered throughout this book are perfert for an advertising course.