Catering: A Guide to Managing a Successful Business Operation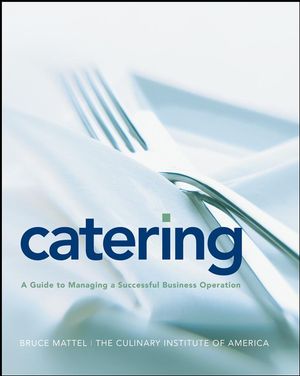 Catering: A Guide to Managing a Successful Business Operation
ISBN: 978-1-118-69271-4
May 2013
368 pages
Product not available for purchase
Description
In this invaluable reference, The Culinary Institute of America provides all the information that caterers and would-be caterers need to set up and run a successful catering business of any kind. From launching the business, establishing pricing, setting up a kitchen, staffing, and marketing to planning events, organizing service, preparing food, managing the dining room and beverages, and developing menus, it provides detailed guidance on every aspect of the catering business, showing operators how to troubleshoot and creatively solve problems. Illustrated throughout with 50 photographs and 30 black-and-white illustrations, Catering is an indispensable guide for anyone who wants to succeed in this highly competitive field.
Chapter 1: Introduction to Catering.
Chapter 2: Starting Your Catering Business.
Chapter 3: Pricing for Profit.
Chapter 4: Setting Up the Catering Kitchen.
Chapter 5: Staffing.
Chapter 6: Marketing.
Chapter 7: Event Planning .
Chapter 8: How Can We Serve You?
Chapter 9: Food Preparation and Service.
Chapter 10: Dining Room and Beverage Management.
Chapter 11: Sample Menus and Service.
Includes expert advice from the nation's top culinary school on all aspects of both on-site and off-site catering
Provides detailed information on the techniques for setting up and running a catering business, including pricing, staffing, marketing, menu planning, organizing service, and much more
Illustrated throughout with 50 photos, as well as sample menus, resumes, blueprints for setting up events, and other sample materials drawn from real-life catering operations